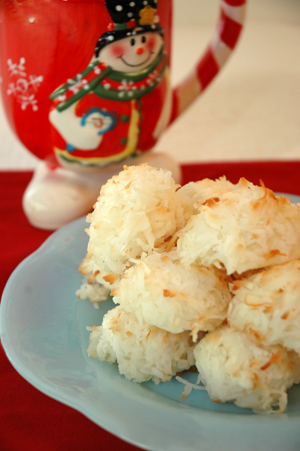 Coconut Macaroons Cookie Recipe
This is a great cookie for making with kids, since it's extremely quick and easy. Mix them up, pop in the fridge, then bake. That's it.



Ingredients
1
cup
cream of coconut
(such as Coco Lopez)*
2
tablespoons
light corn syrup
4
egg whites
1–2
teaspoons
almond or vanilla extract
1/2
teaspoon
salt
8
ounces
unsweetened shredded coconut
8
ounces
sweetened flaked coconut
*Purchase cream of coconut in the liquor section of your local supermarket.
Directions
Preheat oven to 350 degrees.
Grease, spray or line baking sheets with parchment paper.
1. In a small bowl, whisk together cream of coconut, corn syrup, egg whites, vanilla and salt.
2. In a medium bowl, combine shredded and flaked coconuts, breaking up any clumps.
3. Add egg white mixture and stir until combined.
4. Refrigerate for 15 minutes.
5. Drop by heaping tablespoons onto cookie sheets, spacing about 1 inch apart.
6. Use moistened fingers to press mounds into uniform shapes if desired.
7. Bake for 15 minutes, or until cookies are light golden brown.
8. Cool on baking sheet for 2–3 minutes, then transfer to a wire rack.
9. Store at room temperature in an airtight container. Do not freeze.
Preparation Time:
Ten minutes preparation plus baking and downtime.