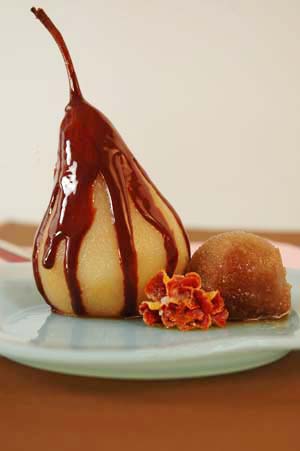 Irish Poached Pears with Chocolate Sauce and Guinness Sorbet Recipe
This unusual recipe takes inspiration from classic Poires Belle Hélène, adding a distinctly Irish twist. The Guinness sorbet is easy to make and well worth trying, but good quality vanilla ice cream makes a fine substitute if you're short on time.



Ingredients
| | | |
| --- | --- | --- |
| 1 | cup | sugar |
| 2 | cups | Guinness draught |
| 2 | cups | water |
| 1 | lemon | zested and juiced |
| 4 | | firm pears, such as Bosc or Bartlett |
| 1 | recipe | Chocolate Sauce, warmed |
| 1 | recipe | Guinness Sorbet |
| | | |
Directions
Combine the sugar, Guinness, water, lemon zest and lemon juice in a non-aluminum 4-quart saucepan.
Bring the mixture to a simmer over medium high heat and cook until the sugar dissolves.
Remove from the heat and set aside.
Peel the pears, leaving the stem intact.
Using a melon baller, scoop out the core of the pear from the bottom.
Place the pears in the poaching liquid and return them to the heat.NOTE: To keep pears submerged, cut a circle of parchment paper just a little smaller than the diameter of the saucepan and place the circle over the pears.
Bring the pears to a gentle boil, then reduce the heat to a simmer.
Poach the pears until tender, about 30 minutes. A toothpick should easily slide through the pear.
When the pears are fully poached, cool them to room temperature.
Pour the pears and poaching liquid into a clean container, cover, and refrigerate until ready to serve. Pears may be refrigerated overnight.
Assemble the Irish Poached Pears
Place a pear on a dessert plate.
Spoon warm chocolate sauce over the pear.
Add a scoop of the Guinness sorbet on the side.
Serve immediately.
Preparation Time:
Under 60 minutes plus cooling and downtime, using prepared chocolate sauce and sorbet.