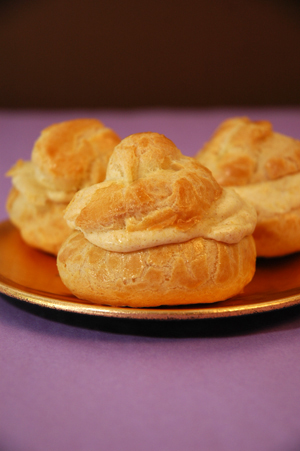 Pâte à Choux au Gingembre Pumpkin Ginger Cream Puffs Recipe
Puff pastry is fun and quite easy to prepare. The pastry "puffs" can be made ahead and frozen, then thawed and filled with pumpkin mousse—or any filling of your choice—close to serving time.



Ingredients
| | | |
| --- | --- | --- |
| 2/3 | cup | water |
| 1/2 | teaspoon | salt |
| 2/3 | cup | flour, sifted |
| 1/4 | teaspoon | ground ginger |
| 1/3 | cup | unsalted butter |
| 3–4 | | eggs |
| 1 | recipe | Pumpkin Ginger Mousse |
| | | |
| | | |
| | | |
Directions
Preheat oven to 425 degrees.
Line a large baking sheet with parchment paper.
1. In a saucepan heat water, salt and butter over medium heat until butter is melted.
2. Bring mixture to a boil and remove from heat. Add flour and ginger and beat vigorously with a wooden spoon for a few seconds until the mixture is smooth and pulls away from the pan to form a ball.
3. Return the pan to a low burner and beat vigorously for 1-2 minutes, to dry the mixture.
4. Place the dough in the bowl of a stand mixer fitted with a paddle attachment and beat on medium speed for a few minutes until the steam subsides.
5. Add eggs one at a time, mixing until fully incorporated after each addition. Add enough eggs to make the dough shiny, but still thick enough to hold its shape when piped.
6. Using a pastry bag fitted with a large plain tip, pipe the dough onto the prepared baking sheet, in 2-inch diameter rounds or balls. (Alternately, neatly mound the dough on the baking sheet using a spoon.)
7. Brush tops with egg glaze, being careful not to let any drip down the sides.
8. Bake in preheated oven for 15 minutes. Reduce heat to 325 degrees and bake an additional 10–15 minutes to dry out the interiors. Puffs should be almost doubled in size and have a golden brown exterior.
NOTE: The best way to test for doneness is to "sacrifice" one of the puffs, breaking it open to see inside. If it is still moist and eggy, bake an additional 5-10 minutes.
9.Cool the puffs thoroughly.
10. Cut each in half, pipe or spoon in a dollop of mousse, and replace the top half to create the finished cream puff.
NOTE: For best results, fill the puffs as close as possible to serving time.