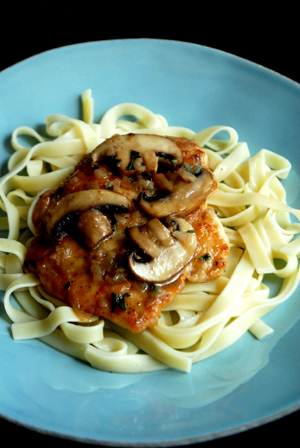 Chicken Marsala Italian Recipe
This beautiful wine reduction gives rich color and flavor to moist chicken cutlets. And don't worry—you'll have plenty left over for an extra glass or two with dinner.



Ingredients
| | | |
| --- | --- | --- |
| Chicken cutlets | | |
| 3 | 8-ounce | skinless, boneless chicken breasts* |
| ~ | | salt |
| ~ | | pepper |
| ~ | | flour, for dredging |
| ~4–6 | tablespoons | vegetable oil for frying, divided |
| Marsala Sauce | | |
| 1 |  tablespoon | oil |
| ~2 | tablespoons | butter |
| 1 | | shallot, minced |
| ~8 | ounces | mushrooms** |
| 1 | cup | chicken stock, divided*** |
| 3/4 | cup | sweet Marsala wine |
| 2 | tablespoons | butter |
| 1 | teaspoon | fresh oregano leaves, chopped**** |
| ~ | | salt |
| ~ | | freshly ground black pepper |
| ~ | | Italian flat-leaf parsley or chives for decoration, chopped |
|   | | |
| | | |
*About 1 ½ pounds of meat.
**White or small brown (baby Portabella) mushrooms work well in this dish. Also try crimini, porcini, oyster or shiitake mushrooms when available.
***Homemade unsalted chicken stock gives the very best flavor. If unavailable, substitute with low-sodium canned stock. Its salt content may alter the recipe so be sure to taste the sauce before seasoning.
****Substitute ½ teaspoon dried oregano if fresh is unavailable. Know that dried is more potent than fresh and adjust accordingly.
Directions
Cutlets
Using a sharp chef's knife, cut the chicken breasts in half horizontally.
Pound the meat to a ¼-inch thickness using a flat-sided mallet, taking care not to over-pound the meat.
Season cutlets with salt and pepper on both sides. Move to a plate, cover with plastic wrap and refrigerate 2–4 hours or overnight.
Remove from the refrigerator and bring cutlets to room temperature.
Blot the cutlets with a paper towel to remove excess moisture.
Cover a plate with flour for dredging.
Dredge each cutlet in the flour, shaking to remove excess.
Heat the oil in a large skillet set over medium-high heat until it begins to sizzle.
Working in batches, fry 3–4 cutlets at a time until golden, approximately 3 minutes. Turn the meat over and fry for another 2­–3 minutes or until cooked through. Adjust heat to prevent burning.
Remove the cutlets and keep warm in a low oven.
Add a bit more oil to the skillet and repeat the process until all cutlets are cooked.
Spritz the cutlets with lemon juice on both sides and plate.
Decorate with a sprinkling of parsley and lemon wedges.
Serve immediately.
Marsala Sauce
Add the oil and butter to the skillet
Reduce heat to medium and sauté the shallot until soft.
Add more butter if needed and sauté the mushrooms until softened, stirring frequently. Remove from the skillet and set aside.
Stir ¼ cup of stock into the skillet and deglaze the pan by scraping thoroughly.
Whisk in the remaining stock and add the wine.
Bring to a lively simmer and reduce by half. Adjust heat as required to prevent burning.
Stir in the butter and oregano.
Taste the sauce and add a very small amount of salt and pepper if required.
Set the chicken cutlets into the skillet and spoon the sauce over them. Lower heat to medium and cook for about 5 minutes in order to blend the flavors and thicken the sauce. Adjust heat to prevent burning.
Taste the sauce and adjust seasonings as desired.
Plate the Chicken Marsala and decorate with a sprinkling of Italian flat-leaf parsley or chives.
Serve immediately.