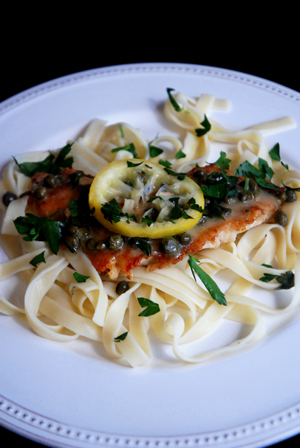 Chicken Piccata Italian Recipe
This Italian favorite takes simple ingredients and turns them into a beautiful meal. Zesty lemon sauce sets off golden chicken cutlets in a pairing that is unforgettable. Serve on a bed of your favorite pasta—spaghetti, fettuccine and linguine all work well.



Serves 4
Ingredients
| | | |
| --- | --- | --- |
| Pasta | | |
| 1 | pound | cooked pasta |
| ~ | | olive oil |
| ~ | | salt |
| ~ | | pepper |
| Chicken Cutlets | | |
| 3 | 8-ounce | boneless, skinless chicken breasts, tenders removed* |
| ~ | | salt |
| ~ | | pepper |
| ~ | | flour, for dredging |
| 2 | tablespoons | butter |
| 2 | tablespoons | vegetable oil |
| Lemon-Caper Sauce | | |
| 1/2 | teaspoon | crushed garlic |
| 1/2 | cup | chicken stock** |
| 6 | | thin slices of lemon |
| 2–3 | tablespoons | lemon juice, freshly squeezed |
| 3 |  tablespoons | capers, drained and rinsed well*** |
| 3 |  tablespoons |  butter, room temperature |
| 1/4 | cup | chopped flat leaf parsley, divided |
| | | |
*This equals 1½ pounds of meat.
**Homemade stock is best but canned low-sodium stock is a good substitute.
***Capers are the unripe, dark green buds of a small, spiny shrub that grows in Mediterranean and Middle Eastern areas. Their buds are sun-dried then brined in vinegar to produce a pungent flavoring for sauces and condiments. Find them in supermarkets, kitchen stores and online.
Directions
Pasta
Toss cooked pasta with olive oil and sprinkle with salt and pepper. Keep warm until ready to assemble the dish.

 
Chicken Cutlets
Using a sharp chef's knife, cut the chicken breasts in half horizontally.
Pound the meat to a ¼-inch thickness using a flat-sided mallet, taking care not to over-pound the meat.
Season cutlets with salt and pepper on both sides. Move to a plate, cover with plastic wrap and refrigerate 2–4 hours or overnight.
Remove from the refrigerator and bring cutlets to room temperature.
Blot the cutlets with a paper towel to remove excess moisture.
Cover a plate with flour for dredging.
Dredge each cutlet in the flour, shaking to remove excess.
Heat the butter and oil in a large skillet set over medium-high heat until they begin to sizzle.
Working in batches, fry 3–4 cutlets at a time until golden, approximately 3 minutes. Turn the meat over and fry for another 2­–3 minutes or until cooked through. Adjust heat to prevent burning.
Remove the cutlets and keep warm in a low oven.
Add a bit more oil to the skillet and repeat the process until all cutlets are cooked.

 
Lemon-Caper Sauce
Using the same skillet, adjust heat to medium and sauté garlic until softened. Adjust heat to prevent burning.
Pour ¼ cup of chicken stock into the skillet and deglaze the pan. Add the remaining stock and stir well.
Add lemon slices and bring sauce to a lively simmer. Reduce sauce to 1/3 cup, approximately 4 minutes.
Slowly whisk in lemon juice, keeping a lively simmer.NOTE: Add only two tablespoons of lemon juice if you want a more subdued lemon flavor.
Add capers.

Remove skillet from heat and whisk in butter.

Stir in half of the parsley.

Taste sauce and add salt and pepper if required.
NOTE: The cutlets are well seasoned and the sauce usually does not require additional seasoning.
Assembly
Remove chicken from the warming oven.
Plate with cutlets on a bed of pasta.
Spoon lemon-caper sauce over the chicken cutlets.
Sprinkle with parsley and decorate with a cooked lemon slice, serving immediately.
Preparation Time:
Under 45 minutes, plus seasoning time (2 hours–overnight)