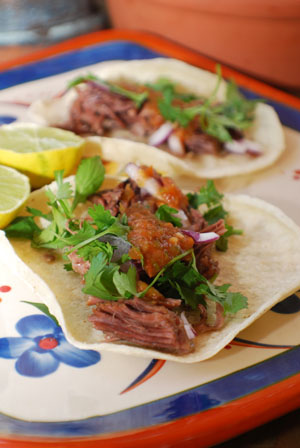 Barbacoa de res Vaca Tacos of beef or lamb steamed in maguey (century cactus leaves) Authentic Mexican Recipe
A favorite at traditional Mexican parties, this slow-roasted meat picks up a rich, delectable flavor from the surrounding cactus leaves. It's unlike anything you've tried, and well worth the effort if you're feeling adventurous.



Ingredients
| | | |
| --- | --- | --- |
| 18–20 | pounds | lamb or beef shanks with bone in* |
| 4 | large | maguey (century cactus) leaves, prickly edge removed with a sharp knife** |
| ~ | boiling | water for steaming |
| 1 | bulb | garlic, broken into cloves |
| 1 | tablespoon | fresh oregano |
| ~ | | corn tortillas |
| ~ | | favorite salsa |
| ~ | | chopped onions |
| ~ | | cilantro |
| ~ | | fresh lemons, quartered |
| | | |
| | | |
*Purchase one pound of shank with bone in per person.
**Each cactus leaf should measure 3 to 4 feet long. You can substitute frozen banana leaves if maguey are not available. The banana leaves are available at Latin and Mexican markets.
Directions
Have ready a large steamer pot on the stove.
Roast the cactus leaves on a stove over an open flame until they darken and become bendable.
Place the steamer pot on the stove and fill the bottom with boiling water.
Add the garlic and oregano to the water and set the steamer basket on top.
Arrange the lower portions of the cactus leaves in the basket with the upper portions hanging out.
Place the meat and bones evenly on top of the cactus leaves.
Fold the cactus leaves evenly on top of the meat.
Cover the cactus leaves with wet cheesecloth.
Seal the steamer basket with aluminum foil and cover with a lid.
Turn the heat to medium and cook until the meat is fork tender. Timing depends on the heat source. It could be approximately three to four hours on a home range, or five to six hours on an outside camp stove.
Pick the meat from the bones and discard the bones or set them aside for another use.
Warm the tortillas.
Fill tortillas with meat, salsa, chopped onions and cilantro.
Spritz with fresh lemon juice and enjoy.
Preparation Time:
approximately 4–6 hours.