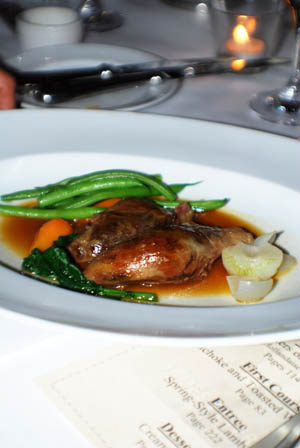 Master Recipe Lamb Stew Recipe
The best meat for lamb stew comes from the shoulder or the shanks. Most butchers and supermarkets sell already-cubed lamb stew meat, but if you can't find it, you can buy lamb shoulder chops or shanks and bone them. You will need about twice the weight of chops or shanks to get the necessary weight of stew meat. Once you have made the basic stew, you can serve as it is—leave the carrots, onion, and garlic in or pick them out—or you can finish it as described in Spring Lamb Stew. Flouring and browning the meat in a pan coated with hot oil will give the stew a deeper color and the flour will thicken the braising liquid, but this is a time-consuming step and not at all necessary.



Ingredients
| | | |
| --- | --- | --- |
| 4 | pounds | lamb stew meat |
| or | | or |
| 8 | pounds | lamb shoulder |
| ~ | | salt |
| ~ | | pepper |
| 1/2 | cup | flour |
| 3 | tablespoons | olive oil |
| 4 | cloves | garlic, crushed |
| 1 | large | carrot, peeled, halved lengthwise, and sliced |
| 1 | large | onion, sliced |
| 1 | cup | dry white wine |
| 3 | cups | broth or water |
| ~ | | Bouquet garni |
| 1 | tablespoon | flour for thickening (optional) |
| 1 | tablespoon | room-temperature butter for thickening (optional) |
| | | |
Directions
If you are using lamb shoulder chops or lamb shanks, take the meat off the bone and cut it into ¾-inch cubes. Season the meat with salt and pepper and then coat with the flour and pat off the excess.
In a large, heavy-bottomed sauté pan, heat the oil over high heat. When the oil begins to smoke, add half of the meat.
When the meat begins to brown, after a minute or two, add the rest of the meat.
As the meat browns, turn it over with tongs and continue to cook until it is browned on all sides.
Put the meat in a bowl and pour the burnt fat out of the pan.
Put the meat in a pot with the garlic, carrot, and onion.
Add the wine and broth to the sauté pan and deglaze.
Bring to a gentle simmer, pour the deglazing liquid over the meat, and nestle the bouquet garni in the center.
Simmer for about 2 hours, or until the meat crushes easily when you squeeze a piece.
If the braising liquid needs to be thicker, strain the liquid into a clean saucepan and set the meat and vegetables aside. Bring the liquid to a simmer and simmer gently, skimming off any froth and fat, until it thickens. If you have reduced it to 2 cups and it still isn't thick enough, use the back of a fork to make a smooth paste with the flour and butter in a small bowl, and then whisk half of the paste into the simmering liquid. Simmer the liquid briefly, check the consistency, and add more paste if needed.
Pick the meat out of the vegetables, discard the vegetables and reheat meat in the thickened liquid, and serve.