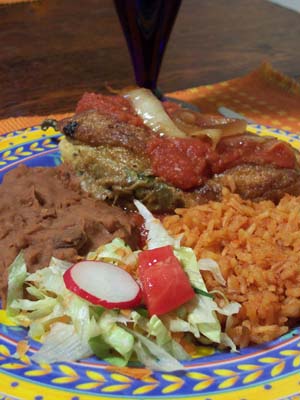 Chiles Rellenos with Especial Sauce Authentic Mexican Recipe
I owe this dish to my friend Magdalena Rensendiz, who shared her recipe for the popular Mexican classic.  I've substituted widely available Montery Jack for the traditional cheese that Magdalena uses when cooking in Mexico.



Ingredients
| | | |
| --- | --- | --- |
| 8 | | Pasilla chilies |
| 1 | pound | Monterey Jack cheese** |
| 2 | cups | flour |
| 10 | | egg whites |
| 2 | | egg yolks |
| 2–4 | cups | vegetable oil for frying* |
| 1 | recipe | Especial Sauce |
.* Adjust amount according to the size of your frying pan.
** I buy the Monterey Jack in 2-pound blocks at Costco. If superstores are not available in your area, purchase the cheese at your local supermarket and cut it into thick strips that fit the pepper you're stuffing.
Directions
Roast, peel, and seed the peppers.
Slice the cheese into 4 equal pieces—approximately 1 1/2-2 inches wide.
Cut each slice diagonally into 2 pieces and set aside.
Insert a piece of the cheese into the chili and close. Fasten with a tooth pick if required.
Place the flour into a plate or pie pan and set it aside close at hand.
Using an electric mixer, whip the egg whites until they hold stiff peaks.
Add the egg yolks to the egg whites and beat for 30 seconds or until integrated.
Dip each pepper into the flour, then into the egg mixture to coat completely.
Fry the peppers in small batches. Dip 3 or 4 pepper in the egg mixture and have ready to fry.
Pour the oil into a large sauté pan to a depth of 2 inches and heat to just below smoking.
Drop the peppers into the hot oil and adjust the heat to medium-high. Turn the peppers as they brown to promote even cooking. Spoon the hot oil over any lighter portions to create a perfectly even golden brown on all sides.
Set peppers on a baking sheet lined with paper towels to absorb any excess oil.