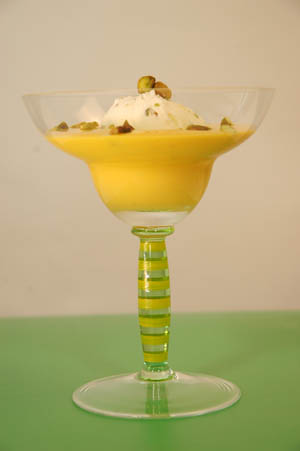 Mango-Pistachio Cold Dessert Soup Recipe
This easy, exotic soup was inspired by the wonderful mango sweets I've enjoyed in India. Perfectly ripe fresh mangos are best, but canned puree—available at local or online Indian markets—yields excellent results.



Ingredients
| | | |
| --- | --- | --- |
| 1 | 30-ounce can | mango puree * |
| 1 | cup | pistachio ice cream, softened** |
| ½–1 | cup | unsalted pistachios, roughly chopped*** |
| | | |
| | | |
| | | |
*Look for puree made from Alfonso mangos, for best flavor.**Ben & Jerry's makes a wonderful ice cream called Pistachio Pistachio that's sold in supermarkets.***Most stores carry pre-salted pistachios, so I blanch them to remove the salt and inner skins—and expose their beautiful green color. Be sure to pat them dry before chopping.
Directions
Place the mango puree and ice cream in a blender and mix well. Continue blending until the pistachio nuts are ground smooth.
Pour the mango-pistachio mixture through a strainer to remove any remaining pistachio chunks.
Cover the bowl with plastic wrap and place in the refrigerator for 4–6 hours to ripen.
Remove the mixture from the refrigerator 10 minutes before serving and ladle into decorative bowls or pretty, long-stemmed glasses.
Sprinkle with chopped pistachios and serve.
Preparation Time:
10 minutes plus 4–6 hours downtime.