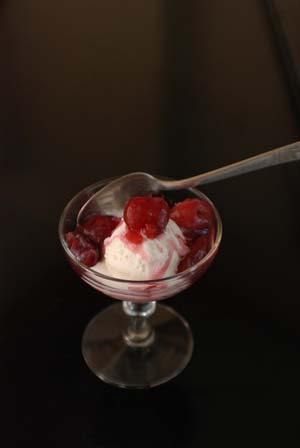 Cherries Jubilee Recipe
If you've never flamed anything before, cherries jubilee is a great place to start. It's simple to make, spectacular to serve and utterly delicious. I served this at my very first big dinner party in college, and still remember the thrill.



Ingredients
| | | |
| --- | --- | --- |
| 4 | cups | pitted bing cherries* |
| 1/2 | cup | sugar |
| 1/2 | cup, plus 3 tablespoons | water, divided |
| 2 | tablespoons | cornstarch |
| 1/4 | cup | brandy |
| 1 | quart | best-quality vanilla ice cream |
*Substitute thawed, frozen cherries when fresh are out of season.
Directions
Combine the cherries, sugar, and 1/2 cup water in a heavy-bottomed pan set over medium-high heat.
Bring to a boil. Reduce the heat to medium-low.
Cover with a lid and cook until the cherries soften.
Whisk the cornstarch and remaining water together until smooth. Add to the cherries and mix well.
Continue cooking, stirring, for a minute or two until the cherry juice thickens.
Warm the brandy.
Transfer the cherries to a chafing dish and pour the brandy over the top.
Ignite and wait until the flames die down.
Scoop the ice cream into serving bowls and ladle the warm cherries over; serve immediately.
Preparation Time:
25–30 minutes