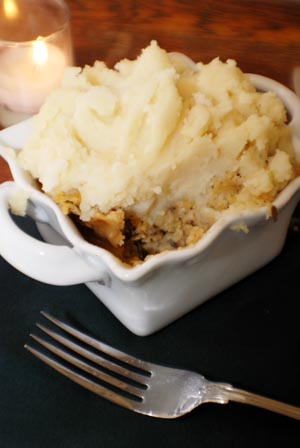 Friday Shephard's Pie Thanksgiving Leftovers Recipe
I've named this dish for Friday—the day after Thanksgiving—for obvious reasons. The quantities and ingredients are flexible; the end result, invariably delicious. Bake it in individual crocks or a large casserole.



Ingredients
~
leftover turkey bits and slices
~
leftover gravy
~
leftover stuffing
~
leftover mashed potatoes
~
leftover green beans, cranberry sauce, carrots or anything your
heart desires
Directions
Pre-heat oven to 375°
In an oven-proof baking dish, arrange a layer of turkey bits and slices.
Top with a bit of gravy.
Add a layer of stuffing and slather with gravy.
Build a layer of your choice with cranberry sauce, vegetables or both.
Top with mashed potatoes.
Bake until the mixture is heated through and the top begins to brown—Approximately 20–25 minutes.
Preparation Time:
5 minutes plus baking time.