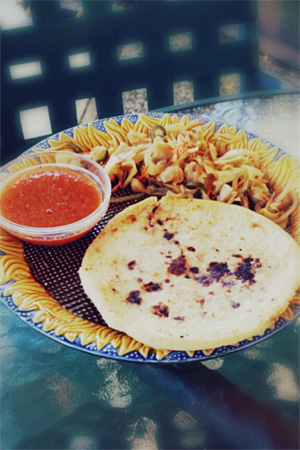 Pupusas con Curtido (Pupusas with cabbage salad) Salvadoran recipe
Pupusas are stuffed tortillas that are very popular in El Salvador. We have two options for stuffing—bean and cheese or zucchini and cheese. Serve with my recipes for salsa rojas and curtido for an authentic meal full of flavor.



Ingredients
2
 cups
 masa harina*
1/8
teaspoon
 salt
1
cup
 water, plus additional for moistening hands while working
5
tablespoons
 vegetable oil
 1
 recipe
 curtido salad/slaw
 1
 recipe
 salsa rojas
Filling (Two Choices)
Option 1: Beans and Cheese
 1/2
 cup
 red beans, cooked and finely mashed
 1 1/4
 cups
 grated cheese**
Option 2: Zucchini and Cheese
 6
 small
 zucchini, halved, seeded and finely minced
 1 1/4
 cups
 grated cheese**
*Masa harina is a dried corn dough that can be found in Latin supermarkets.
** Shredded mozzarella cheese works well in pupusas. Other choices include quesillo, queso fresco and Monterey Jack cheese.
Directions
Combine the masa and salt in spacious bowl.
Slowly add the water, incorporating until a moist dough forms
NOTE: If the dough becomes too moist, work in one additional teaspoon of masa. Repeat until the dough reaches the proper consistency. Cover the bowl and let dough rest for 15 minutes.
Filling
Option 1: Bean and Cheese
 Combine the beans and cheese in a bowl. Mix well and set aside.
Option 2: Zucchini and Cheese
Squeeze all excess moisture from zucchini and discard.
Combine the cheese and zucchini in a bowl. Mix well and set aside.
Assembling Pupusas
Moisten hands and scoop out a 2-inch piece of dough. Roll into a ball.
Using your thumb, press an indentation into the ball to form a small cup.
Place a tablespoon of filling in the indentation. Do not overfill.
Fold the dough over the filling and seal.NOTE: Continue to moisten your hands throughout the process or your dough will stick and become unmanageable.
Pat back and forth between your hands until your pupusa is about ¼-inch thick. Repeat until all pupusas are completed.NOTE: If your pupusa tears, patch with a piece of masa and smooth out.
Pour the vegetable oil into a large skillet set over medium-high heat. Once oil is sizzling, add the pupusas. Avoid overcrowding.
Cook 2-3 minutes or until brown. Adjust heat to prevent burning.
Flip and cook the other side until brown.
Plate with a side of curtido and salsa rojas.