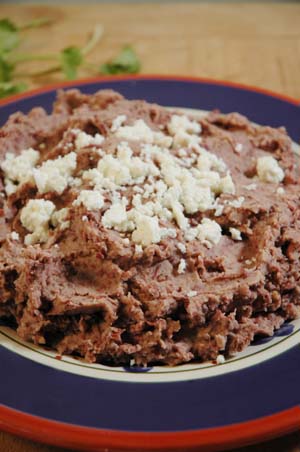 Refried Beans Authentic Mexican Recipe
In Mexico, cooks traditionally fry their beans in homemade pork lard, which yields a wonderful flavor. My version—learned from my friend and extraordinary cook, Yolanda Resendiz— substitutes vegetable oil with excellent results.



Ingredients
| | | |
| --- | --- | --- |
| 2 | cups | dried red beans |
| 8 | cups | chicken broth* |
| 1/2 | medium | onion, chopped |
| 1 | tablespoon | salt |
| ~ | | vegetable oil for frying |
| 1/2 | cup | queso fresco cheese, crumbled ** |
* Canned broth or homemade Chicken Stockgives the best flavor. If you have dietary restrictions, substitute vegetable broth or water.**Locate queso fresco cheese in Mexican markets, or you can substitute feta or Monterey jack.
Directions
1. Soak beans according to manufacturer's instructions.
2. Set a heavy-bottomed skillet over medium-high heat, add the beans, broth, onion, and salt and bring to a boil. Lower the heat to a slow simmer, cover with a tight-fitting lid, and cook for one-and one-half hours or until soft.
3. Drain the beans and reserve the cooking liquid for later. Place the beans in a heat-resistant mixing bowl.
4. Use a hand-held potato masher to mash the beans until smooth but with some texture remaining. Check the consistency and add the reserved cooking liquid if they are too dry. Adjust the salt.
NOTE: Do not process the beans in a food processor or they will become gooey.
5. Return the skillet to the heat, add oil, and heat to almost smoking.
6. Add the beans and cook until they begin to dry out.
NOTE: If you like your beans crispy, add more oil to the skillet and fry until crisp. Flip with a metal spatula and continue frying.
7. Remove to a serving bowl and top with the crumbled cheese.
Preparation Time:
20 minutes plus 8+ hours soaking and cooking time.