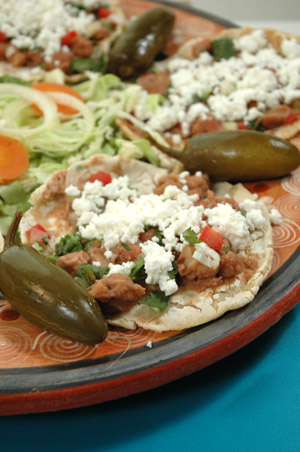 Sopas with Beans, Queso Fresco Cheese and Salsa Authentic Mexican Recipe
Another popular Mexican street food, sopes can be topped with nearly anything. Beans and cheese make a good starting point.



Serves 20
Ingredients
| | | |
| --- | --- | --- |
| 1 | recipe | Pico de Gallo |
| 1 1/4 | pounds | plain masa* |
| 1/3+ | cup | vegetable oil for frying |
| ~ | | warm water |
| 1 | recipe | Refried Beans, heated** |
| 1 1/2 | cups | queso fresco cheese, crumbled*** |
| 1 | large | onion, chopped |
| ~ | | cilantro, chopped |
* Pre-made masa is available in Mexican markets. Some require that you call ahead to special order it.
**Canned beans work well when time is limited but homemade Refried Beans 
deliver the best flavor.
***You'll find this cheese in Mexican markets; substitute feta or Monterey Jack if necessary.
Directions
Dough
Place the masa on a clean working space and knead until soft. Work in small amounts of water, if needed, to form a pliable dough.
Form the masa into 1-ounce balls.
Place each ball in a tortilla press, forming 2 ½-3-inch rounds that are ¼-3/8-inch thick.
NOTE: If a press is unavailable, put each masa ball between two pieces of plastic wrap, place on a clean, flat surface, and press with the bottom of a pan.
Heat a griddle or large, heavy-bottomed skillet over medium-high heat until very hot.
Place several rounds on the heat and cook for several minutes or until pale brown.
Gently pinch the surface of the sope five or six times to promote fast, even cooking. Flip the sope and continue cooking for several more minutes.
Remove the sope from the skillet and crimp the edges upward 1/4-inch. Place the cooked rounds on a clean plate and cover with a clean kitchen towel.
Note: You can prepare the sopes to this point several days ahead and store them covered in the refrigerator until ready to fry.
Frying the Sopes
Line a baking sheet with paper towels and set aside.
1. Pour the vegetable oil in to a heavy-bottomed pan, turn the heat to medium high, and heat to almost smoking.
2. Place several sopes in the hot oil and fry until lightly crisp on the outside and moist on the inside. Be careful not to crowd them during the frying process.
3. Remove from the oil, drain on the prepared baking sheet, and cover with more paper towels to absorb the excess oil.
4. Add more oil to the pan as needed and repeat until all sopes are fried.
Sopes Topping
1. Place several tablespoons of beans on each sope and spread over the surface.
2. Add several tablespoons each of pico de gallo and crumbled cheese.
3. Sprinkle with the chopped onion and cilantro and serve.