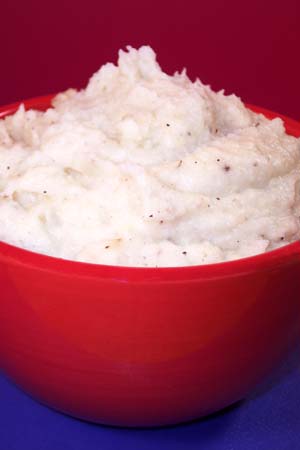 Classic Mashed Potatoes Recipe
Have the paramedics standing by—my version of the comfort classic contains cream, milk, and butter in abundance. Trust me, it's totally worth it.



Ingredients
| | | |
| --- | --- | --- |
| 3 | pounds | potatoes* |
| 1/2 | cup | milk |
| 1 | cup | heavy cream |
| 1 | cup | butter |
| 1 | teaspoon | salt |
| 1/2 | teaspoon | freshly ground pepper |
.*Use Idaho or Yukon Gold potatoes for best results.NOTE: Do not mash the potatoes in your food processor or they will become gummy. A potato ricer works well for this job
Directions
1. Cut the potatoes in quarters, leaving their jackets on.
2. Put the potatoes in a large saucepan and cover with water. Bring to a boil and cook until the potatoes are soft.
3. Drain the potatoes in a colander, cool slightly, and remove the skins with a paring knife.
4. Mash the potatoes with a ricer and place them in a large bowl. Do not mash them in the food processor or they will be gummy.
5. Return the potatoes to the saucepan.
6. In a separate pan, heat the milk, cream, and butter until the liquid is hot to the touch and the butter is melted. Pour the hot cream mixture over the potatoes and mix thoroughly.
7. Re-heat the potatoes over a medium flame, stirring often.
8. Season with the salt and pepper and adjust to your taste.
9 Check the consistency of your potatoes and add more milk if needed. They should have a soft, creamy texture.
9. Serve immediately.
Preparation Time:
45 minutes including boiling the potatoes.