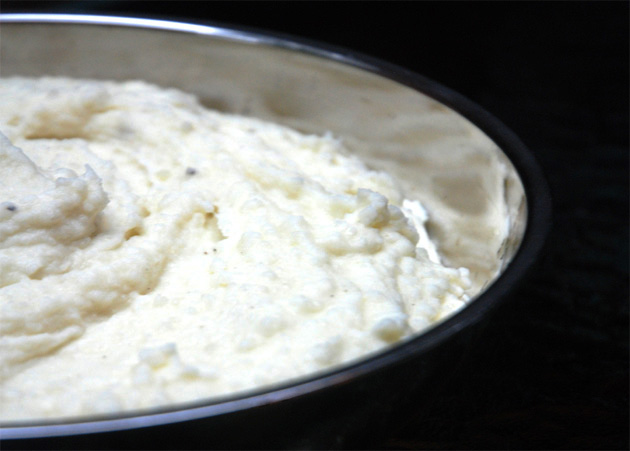 Forget turkey and all the fancy foods. The hands-down favorite dish at my Thanksgiving celebration every year is mashed potatoes—mounds and mounds of them. No one can resist the simple spud dressed to perfection with lots of cream, milk and butter then whipped to sublime fluffiness. Myself included.
Even novice holiday cooks can wow the crowd with this easy-to-prepare dish. All that's needed is my perfect Classic Mashed Potatoes recipe and a few tips for success.
1.    Select Idaho or Yukon Gold potatoes for best results.
2.    Prepare the mashed potatoes earlier in the day and warm them just before serving. Otherwise, it's crazy busy when you start peeling, mashing, and mixing while trying to get the rest of the meal on the table.
3.    Use a simple potato ricer for mashing the potatoes. They are inexpensive and available at kitchen stores and select supermarkets. (Stores like Sur le table carry the larger sized ones that make mashing faster.)
4.    Never, never, never mash the potatoes in a food processor or they become gummy. Yummy but gummy.
5.    Heat the cream, milk and butter together until the liquid is hot to the touch and the butter melted. Pour the hot cream mixture over the potatoes and mix thoroughly.
6.    Check the consistency of the potatoes and add more warm milk if needed. They should have a soft, creamy texture. Don't fret if you have lumps unless smooth is the goal. In that case, scoop all of the mashed potatoes in to the bowl of an electric mixer, set it to medium and whip to your desired consistency.
7.    Re-heat the mashed potatoes in a heavy pot, stirring constantly over a medium heat. Add more liquid as required to restore the original soft texture. Adjust the seasonings and serve.
With this much pleasure on a plate, I ask that you leave your guilt at the door, grab a fork and dig in!
Print a copy of Classic Mashed Potatoes for your convenience.