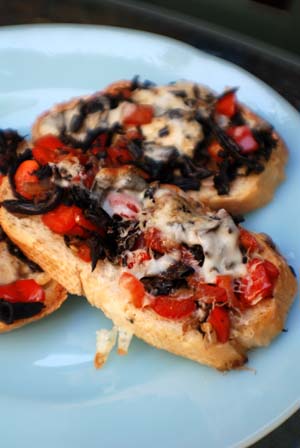 Black Trumpet Mushroom and Red Pepper Sauté Recipe
The unique flavor of black trumpet mushrooms is a perfect complement to smoked ingredients, such as the smoked mozzarella used here. This flavorful mixture is delicious simply spooned over bread, and also makes an original topping for other starches such as pasta or mashed potatoes.



Ingredients
| | | |
| --- | --- | --- |
| 1 | teaspoon | olive oil |
| 1/4 | cup | thinly sliced shallots |
| 2–3 | teaspoons | marsala, sherry, or slightly sweet white wine |
| 2 | cups | fresh black trumpets, cleaned and chopped or torn into strips |
| 1/2 | teaspoon | tamari or soy sauce |
| 1 | medium | red bell pepper, chopped into ½-inch squares |
| 1/2 | cup | grated smoked mozzarella |
Directions
Set a heavy-bottomed skillet over medium-high heat and add the olive oil.
Add the shallots and sauté until just past translucent. Adjust the heat to prevent burning.
Add the wine and continue to sauté until most of the liquid has evaporated. Remove the shallots from the pan and set aside.
Return the skillet to the burner, increase the heat slightly and add the black trumpet mushrooms. Stir the mushrooms for several minutes until they release their liquid.
Stir in the tamari.
Bring to a simmer and cook for 7 to 8 minutes until the mushrooms are almost tender.
Add the red peppers and simmer for 3 to 4 minutes until softened.
Taste the liquid and add a bit more tamari or salt if needed.
Stir in the cooked shallots.
Add the grated cheese and mix well. Place a lid on the skillet to hold the heat briefly so the cheese melts. Remove the lid, stir and remove from the heat.
Serve immediately as a topping for toasted French bread or crackers.
Preparation Time:
Less than 45 minutes.