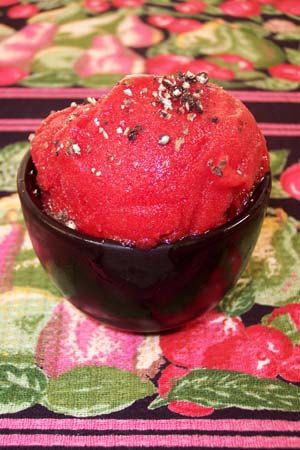 Strawberry Sorbet with Cracked Black Pepper Recipe
This luscious sorbet was inspired by the Italian tradition of macerating fresh strawberries in fine balsamic vinegar, then spicing them with a hint of pepper. Straining the fruit to remove the seeds is a bit time-consuming, but the results are well worth the effort.



Ingredients
| | | |
| --- | --- | --- |
| 4 | cups | ripe strawberries, quartered |
| 4 | tablespoons | balsamic vinegar* |
| 1 1/2 | cups | Simple Syrup |
| ~ | | cracked black pepper |
| | | |
* Use a good quality balsamic vinegar as the cheaper ones are too acidic.
Directions
1. Place the sliced strawberries in a spacious mixing bowl, add the balsamic vinegar, and mix well.
2. Cover with plastic wrap and place in the refrigerator for 30 minutes.
3. Place the strawberries in a large, fine mesh sieve and press through, removing all of the seeds.
4. Combine the strained strawberry puree and simple syrup together in a mixing bowl. Strain the mixture again if needed to remove any remaining seeds.
5. Cover the strawberry mixture with plastic wrap and place in the refrigerator for 4–6 hours or overnight to chill completely.
6. Remove the strawberry mixture from the refrigerator and process in an ice cream maker according to the manufacturer's instructions.
7. Remove the sorbet from the freezer 10 minutes before serving.
8. Scoop it into a serving dish and sprinkle with the cracked pepper. Start with a small sprinkling and increase as you find your preference.
Preparation Time:
60 minutes plus 8 to 12 hours downtime.