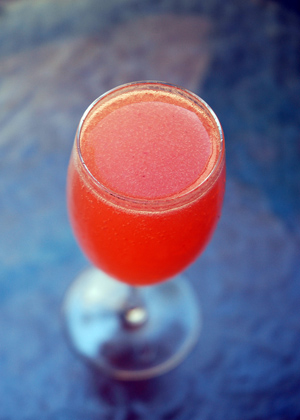 Strawberry Bellini Brunch Drink Cocktail Recipe
Of course best-quality strawberries in season are always the ideal choice. But thanks to a touch of sugar and a splash of premium balsamic vinegar, even average berries shine in this bubbly cocktail.



Ingredients
Drink
1
tablespoon
strawberry puree
4
ounces
Italian Prosecco* or dry champagne
Strawberry
Puree
1
pint
strawberries, hulled and quartered
2
tablespoons
sugar
2
teaspoons
good-quality balsamic vinegar
* Procecco is a sparkling wine from the Italian region near Treviso, and is much like dry French champagne. If Prosecco is unavailable, substitute a dry champagne like Brut.
Directions
Drink
1. Chill the glass in the refrigerator, or fill it with ice for several minutes, then discard the ice.
2. Pour the strawberry puree into the glass. Add the champagne and stir gently.
3. Serve immediately.
Strawberry Puree Mixture
1. Place the strawberries, sugar, and balsamic vinegar in a blender and process until smooth.
2. Pass the mixture through a fine mesh strainer to remove all of the seeds.
3. Transfer the puree to a container, cover, and refrigerate for a minimum of one hour or overnight to develop the flavors.