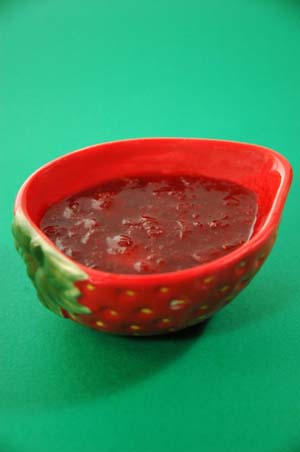 Strawberry Jam Recipe
While most people think of jam-making as an elaborate affair requiring huge cooking vats and sterilizing equipment, I prefer to make mine in tiny batches, using leftover fruits that I have on hand. This delicious spread takes just a few minutes to make, and can be stored safely in the fridge for up to a month—though it's unlikely to last that long!



Ingredients
| | | |
| --- | --- | --- |
| 2 | cups | ripe strawberries, hulled and quartered |
| 2 | cups | sugar |
| 2 | tablespoons | good-quality balsamic vinegar |
| 2 | tablespoons | powdered pectin* |
| 1 | tablespoon | butter |
| | | |
*Find powered pectin in the jam-making section of your local supermarket.
Directions
Place the strawberries, one-half cup of sugar, and the balsamic vinegar in a spacious mixing bowl. Mix well, cover, and place in the refrigerator to macerate for 4-6 hours or overnight.
Remove from the refrigerator and pour the mixture into a heavy-bottomed saucepan over medium heat.
Add the pectin and butter and mix well.
Bring the mixture to a lively simmer, then reduce the heat to medium-low and cook the strawberries for five minutes or until softened.
Increase the heat to medium, add the remaining sugar, bring to a boil, and cook for one minute.
Remove the jam from the heat, skim off any foam from the surface, and pour the strawberry jam into a clean, heat-proof glass container with a lid.
Cool to room temperature and store the jam in the refrigerator for up to one month.
Preparation Time:
10-12 minutes plus 5-7 hours downtime.