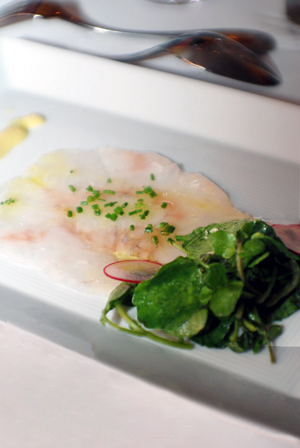 Fish Carpaccio (Carpaccio Di Pesce) Recipe
Most of us associate the term carpaccio with thin slices of raw beef. Beef carpaccio was created at Harry's Bar in Venice in 1950, the year of a major exhibition of the works of the famed Venetian painter Vittore Carpaccio, whose paintings adorn the church of San Giorgio degli Schiavoni. Legend has it that the dish was created for a frequent guest whose doctor had placed her on a diet forbidding cooked meat. So today sliced raw beef is commonly called by the more modern name carpaccio instead of carne cruda. Carpaccio di pesce follows a similar concept but is prepared with thin slices of fish, pesce crudo.
Some fish need to spend a bit of time in a marinade to partially "cure" and become fork-tender. Tuna is almost always my first choice for carpaccio, as it doesn't need much to marinate, but buttery slices of Alaskan halibut or salmon are good too, as are shrimp and scallops. They just need a little extra time to absorb the dressing.



Ingredients
| | | |
| --- | --- | --- |
| 4 | 1/3-inch thick slices | ahi tuna, Alaskan halibut or salmon* |
| 2 | bunches | watercress or young, tender arugula, tough stems removed |
| ~1/2 | cup | mustard shallot citrus dressing |
| 10–12 | | black or red radishes or ½ daikon radish, sliced paper-thin |
| ~ | | sea salt or fleur de sel |
| 2 | tablespoons | chopped fresh chives, for garnish |
*This is the equivalent of 3 ounces of fish.
Directions
Place each slice of fish between 2 sheets of lightly oiled parchment paper or plastic wrap and pound very gently, smoothing the fish with a circular motion, to a uniform thickness of 1/8-inch. The fish is already tender, so don't be too exuberant. You don't want to make holes.
Refrigerate, still in oiled paper, until needed.
To serve:
Toss the watercress or arugula in a bowl with a few spoonfuls of the dressing.
Arrange the greens in a circular pattern on 4 salad plates.
Arrange the radish slices on the greens, placing them at the outer edges of each plate.
Take the fish out of the refrigerator and peel away the top sheet of paper from each slice.
Invert the fish carefully onto the greens.
Push the fish down onto each plate with the heel of your hand. Peel away the second sheet of oiled paper and drizzle the remaining dressing on top.
Sprinkle with salt.Note: It is crucial to sprinkle the fish lightly with good salt, or it will taste flat; plus the salt delivers a delightful crunch.
Sprinkle with the chopped chives and serve immediately.
Note: For halibut or salmon, pound as directed, remove the parchment or plastic and put the fish on the serving plates without any greens or radishes. Drizzle on some dressing and allow the fish to marinate in the vinaigrette for about 15 minutes to partially cure it. Then tuck the dressed radishes and greens around the fish just before serving.