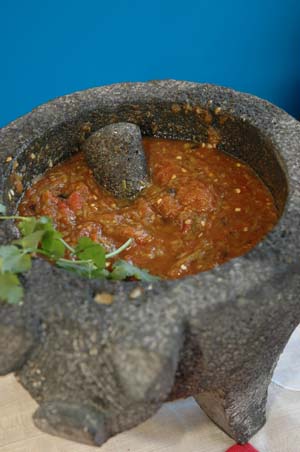 Salsa Picante Roja Authentic Mexican Recipe
When sweet ripe tomatoes meet bold serranos, the flavor of Mexico springs to life. Although this staple salsa can be made with a food processor, many Mexican cooks prefer the more complex texture produced by grinding it by hand in a Mexican mortar and pestle, known as a molcajete y tejolote.



Ingredients
| | | |
| --- | --- | --- |
| 4–10 | | Serrano chiles* |
| 10 | medium | tomatoes, halved |
| 2–3 | cloves | garlic |
| ½+ | teaspoon | salt |
| 1/2 | bunch | cilantro, chopped |
| ~ | | water |
*Chilies vary in heat throughout the year. What is mild one month may be super hot another, so taste before you cook!
Directions
Roast the chiles on a dry grill or in a cast iron skillet set over medium heat until soft. Remove the chiles and set aside.
Place the tomatoes cut side down in the same skillet set over medium heat and roast until soft. Turn the tomatoes halfway through the process.
Pour a small amount of water into the skillet to remove the bits of roasted flavor. Pour into a small bowl and set aside.
Place the garlic in a molcajete y tejolote and pulverize.
Add the roasted chiles and continue to grind.
Add the tomatoes and crush to produce a richly textured salsa.
Add the salt and adjust as needed to taste.
Stir in the cilantro.
If the salsa is too thick, thin it with a small amount of the reserved water from the roasting pan.
Preparation Time:
approximately 45 minutes