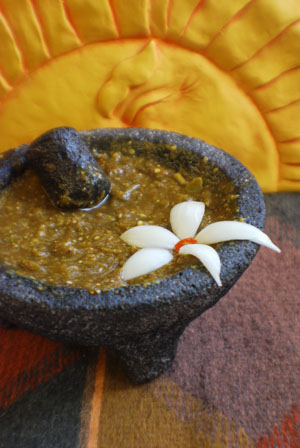 Salsa Picante Verde (Hot green sauce) Authentic Mexican recipe
Spicy green salsa is a Mexican staple for everything from smothering enchiladas to simply dipping chips. Although it can be made with a food processor, many Mexican cooks prefer the more complex texture produced by grinding it by hand in a Mexican mortar and pestle, known as a molcajete y tejolote.



Ingredients
| | | |
| --- | --- | --- |
| 4–10 | | Serrano chiles* |
| 2 | pounds | tomatillos, shucked and quartered |
| 2–3 | cloves | garlic |
| 2–3 | canned | whole chipotle chiles in sauce (do not rinse) |
| ½+ | teaspoon | salt |
| 1/2 | bunch | cilantro, chopped |
| ~ | | water |
*Chilies vary in heat throughout the year. What is mild one month may be super hot another, so taste before you cook!
Directions
Roast the chiles on a dry grill or in a cast iron skillet set over medium heat until soft. Set aside.
Place the tomatillos in the same skillet set over medium heat and roast until soft. Turn the tomatillos to prevent burning.
Pour a small amount of water into the skillet to remove the bits of roasted flavor. Pour into a small bowl and set aside.
Place the garlic in a molcajete y tejolote* and pulverize.
Add the roasted chiles and continue to grind.
Add the tomatillos and crush to produce a richly textured salsa.
Add the chipotles and crush.
Add the salt and adjust as needed to taste.
Stir in the cilantro.
If the salsa is too thick, thin it with a small amount of the reserved water from the roasting pan.
*Similar to a mortar and pestle, a molcajete y tejolote is a traditional Mexican stone tool used for crushing and grinding ingredients. Any large stone or clay mortar and pestle will work just fine. You can shop online for an authentic molcajete at www.mexgrocer.com.
Preparation Time:
Approximately one hour.