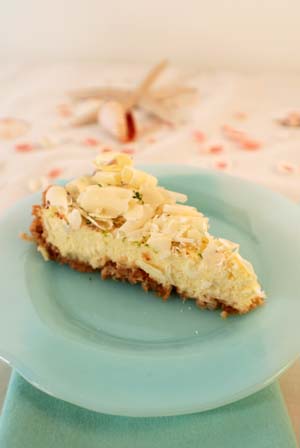 Key Lime Cheesecake Recipe
A splendid crust and simple-to-make filling provide dazzling results. Make sure to choose good-quality real white chocolate, not white "confectionery coating."



Ingredients
| | | |
| --- | --- | --- |
| Crust | | |
| 2/3 | cup | sweetened flaked coconut |
| 1/2 | cup | unsalted butter, melted |
| 1 | cup | graham cracker crumbs |
| 1/4 | cup | macadamia nuts, finely chopped (optional) |
| 1 | tablespoon | sugar |
| | | |
| Filling | | |
| 1 | pound | cream cheese, room temperature* |
| 8 | ounces | white chocolate, melted |
| 3 | | eggs |
| 3/4 | cup | key lime juice** |
| ~ | | white chocolate curls |
| 1 | | lime, zested |
*This equals two 8 ounce packages of cream cheese.**Use fresh or bottled key lime juice, do not use regular lime juice.
Directions
Preheat oven to 350 degrees.
Double wrap the outside of a 9-inch springform pan with heavy-duty aluminum foil, making it water tight. Alternately, well-coat a 9-inch high-sided cake pan with cooking spray and line with a circle of parchment paper.
Crust
Spread the coconut on a cookie sheet and toast in the preheated oven for 8–10 minutes, until golden brown; cool.
In a small bowl, combine the melted butter, graham cracker crumbs, nuts, coconut and sugar.
Press the mixture onto the bottom and sides of the prepared pan.
Bake for 10 minutes.
Remove from oven and cool on a wire rack.
Filling
Using an electric mixer, beat the cream cheese until smooth and fluffy.
Blend in the melted white chocolate.
Add the eggs one at a time, beating after each addition.
Note: Be careful not to overbeat; too much air will reduce the creaminess of the finished cheesecake.
Blend in the key lime juice.
Pour the filling into the prepared crust.
Place the pan inside a larger pan and add 1 1/2–2  inches of hot water to form a bain marie or water bath.
Bake for 40–45 minutes, until just set.
Note: Cheesecake should just "shimmy" in the center and be firm around the edges.
Cool to room temperature in the water bath, then remove from the water bath, tent with plastic wrap and chill for several hours or overnight.Note: To depan from a 9-inch cake pan: Once the cake has chilled, slide a butter knife around the inside edges of the pan, loosening the cake. Place a plate over the top of the pan, quickly invert the pan and the cheesecake should gently drop right onto the plate. Quickly place another plate on top of the cheesecake and flip upright. If the cheesecake feels like it is sticking, immerse the bottom of the pan in hot water for a few seconds.
To serve, garnish with white chocolate curls and lime zest.
Preparation Time:
30-40 minutes plus 40-45 minutes baking time.