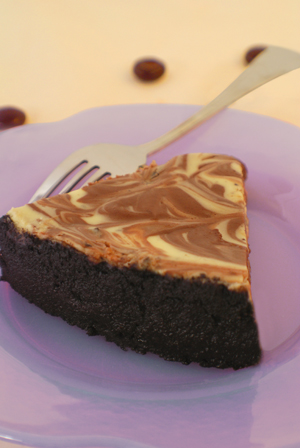 Chocolate Mint Swirl Cheesecake Recipe
If you love chocolate and mint, this is the bee's knees. If you don't, omit the peppermint extract and Junior Mints and replace with 1 cup chopped Snickers, Oreos, Reese's—you name it!



Ingredients
| | | |
| --- | --- | --- |
| Crust | | |
| 2 | cups | chocolate wafer cookie crumbs |
| 6 | tablespoons | melted butter |
| | | |
| Filling | | |
| 6 | ounces | Junior Mints candies, frozen |
| 1 1/2 | pounds | cream cheese, room temperature* |
| 2/3 | cup | sugar |
| 3 | | eggs |
| 3 | ounces | semisweet chocolate, melted |
| 1 | teaspoon | peppermint extract |
*This equals three 8 ounce packages of cream cheese.
Directions
Preheat oven 350.
Double wrap the outside of a 9-inch springform pan with heavy-duty aluminum foil, making it water tight. Alternately, Well-coat a 9-inch high-sided cake pan with cooking spray and line with a circle of parchment paper.
Crust
Combine cookie crumbs with melted butter. Press onto the bottom and up the sides of the prepared pan.
Filling
Using an electric mixer, beat the cream cheese and sugar until smooth.
Add the eggs, one at a time, beating after each addition.
Note: Be careful not to overbeat; too much air will reduce the creaminess of the finished cheesecake.
Measure out 1 cup of the batter and transfer it to another bowl.
Stir the melted chocolate into the 1 cup of batter and set aside.
Remove the Junior Mints from the freezer and roughly chop them.
Add the mints and peppermint extract to the main portion of the batter.
Pour the peppermint batter over the prepared crust.
Pour the chocolate mixture on top and swirl gently with a knife, creating a marble effect.
Place the pan inside a larger pan and add 1 1/2 -- 2 inches of hot water to form a bain marie or water bath.
Bake for 40–45 minutes until just set.
Note: Cheesecake should just "shimmy" in the center and be firm around the edges.
Cool to room temperature in the water bath, then remove from the water bath, tent with plastic wrap and chill for several hours or overnight.
Note: To depan from a 9-inch cake pan: Once the cake has chilled, slide a butter knife around the inside edges of the pan, loosening the cake. Place a plate over the top of the pan, quickly invert the pan and the cheesecake should gently drop right onto the plate. Quickly place another plate on top of the cheesecake and flip upright. If the cheesecake feels like it is sticking, immerse the bottom of the pan in hot water for a few seconds.
Preparation Time:
30 minutes plus 40–45 minutes baking time.