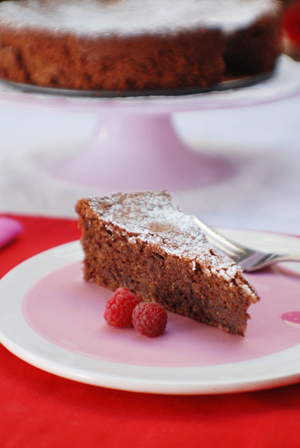 Scharffen Berger Flourless Chocolate Almond Cake Recipe
This dense cake uses ground almonds instead of flour. Toasting the almonds before grinding them creates the richest possible flavor.



Ingredients
| | | |
| --- | --- | --- |
| 6 | ounces | bittersweet chocolate, chopped |
| 1/4 | cup | espresso or double strength coffee |
| 10 | tablespoons | butter, room temperature |
| 3/4 | cup | sugar |
| 6 | large | eggs, separated |
| 1/4 | teaspoon | salt |
| 2 | tablespoons | sugar |
| 2 | cups | toasted finely ground almonds |
| ~ | | whipped cream, for garnish |
| | | |
Directions
Preheat the oven to 375 degrees.
Lightly grease and flour a 9-inch springform pan. Line the bottom with parchment.
Combine the chocolate and coffee in the top of a double boiler placed over a pan of simmering water. Heat, stirring occasionally, until melted and smooth. Set aside to cool.
Using an electric mixer with the paddle attachment, beat the butter and sugar fluffy and pale.
Add the egg yolks, two at a time. Continue to beat until the mixture is light and airy. Fold in the cooled melted chocolate.
In a separate bowl using a whisk attachment, whip the egg whites with the salt until they form soft peaks. With the mixer running, add two tablespoons sugar and continue to whip until stiff and glossy. Fold the ground almonds into the whites, then fold the chocolate mixture into the egg white mixture.
Pour the batter into the prepared pan. Place in the oven and immediately turn the heat down to 350 degrees. Bake 15 minutes. Turn the oven down to 325 degrees and bake for an additional 45 minutes. Turn the oven down to 300 degrees and bake for about 15 minutes more. Turn the oven off, set the door ajar, and leave the cake inside to cool for another 30 minutes.
Remove from the oven and set the pan on a rack until completely cool.
When ready to serve, remove the springform collar and dust the cake with confectioner's sugar. Garnish with whipped cream if desired.
Preparation Time:
Approximately 20–25 minutes; Baking time 1 hour 45 minutes plus cooling time.