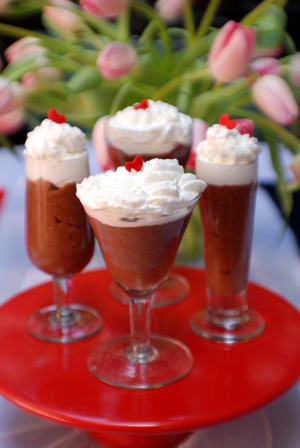 Mousse au Chocolat Recipe
Classic chocolate mousse is a must-have classic in your dessert repertoire. This one includes a tantalizing hit of Grand Marnier.



Ingredients
| | | |
| --- | --- | --- |
| 6 | ounces | good quality bittersweet chocolate, chopped |
| 4 | tablespoons | espresso or strong coffee* |
| 3/4 | cup | unsalted butter, room temperature |
| 4 | | eggs, separated |
| 3/4 | cup | superfine sugar |
| 2–4 | tablespoons | Grand Marnier (to taste) |
| 1 | tablespoon | granulated sugar |
| 1/8 | teaspoon | salt |
| ~ | | whipped cream, as accompaniment |
| | | |
| | | |
* You may substitute 1 1/2 teaspoons of espresso powder dissolved in 4 tablespoons of water.
Directions
Prepare a large bowl or pan filled with ice water and set aside close at hand.
Combine the chocolate and coffee in a double boiler or heatproof bowl set over simmering water. Heat gently, stirring occasionally, until chocolate is melted.
Remove the chocolate from the heat and whisk in the butter, 2 tablespoons at a time, until all the mixture is smooth and creamy.
In a medium heatproof bowl, whisk together the egg yolks and superfine sugar until the mixture is thick, pale yellow and forms a ribbon when the whisk is lifted.
Set the bowl over simmering water and continue whisking for 3–4 minutes, until the mixture is foamy and hot to the touch. Remove from heat.
Immediately set the bowl over the ice water and continue to whisk until the yolk mixture cools and again forms ribbons.
Whisk the chocolate mixture and the Grand Marnier into the yolks. Set aside.
In the bowl of a stand mixer, beat the egg whites and salt until soft peaks form. Add the granulated sugar and beat until firm (not stiff) peaks form.
Fold about ¼ of the whites into the chocolate mixture until well combined. Very gently fold in the remaining whites, mixing only until no white streaks appear.
Pipe or spoon the mousse in 6 wine glasses or pretty glass bowls.
Tent with plastic wrap and chill at least 4 hours or overnight.
Serve with whipped cream.
Preparation Time:
40 minutes; Fridge Time: 4+ hours