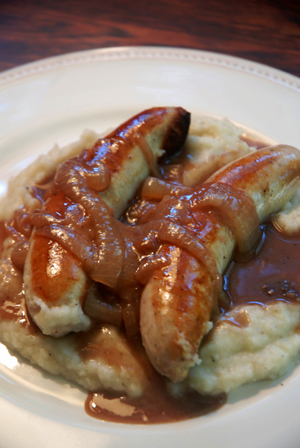 Bangers and Mash with Onion Gravy British Recipe
There's nothing like a warm plate of bangers and mash to fix a cold winter night. With onion gravy and mashed potatoes prepared beforehand, this dish comes together in minutes.



Serves 4
Ingredients
Directions
Prepare the onion gravy and mashed potatoes using my Beyond Wonderful recipes.
Pour the oil in a skillet set on medium-high heat. Heat until sizzling. Brown the bangers evenly, adjusting heat to prevent burning.
Spoon the mashed potatoes on a plate and arrange the bangers on top. Pour the onion gravy overtop or on the side. Dig in!
Preparation Time:
10 minutes with pre-made onion gravy and mashed potatoes