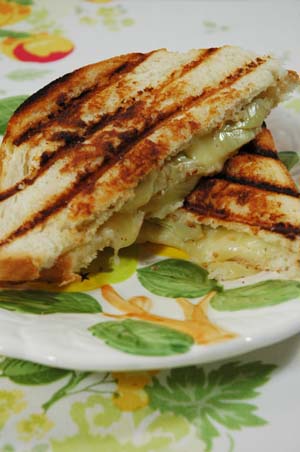 Grilled Artichoke-Gouda Sandwich Recipe
This is unquestionably my favorite sandwich. Good bakery bread and homemade Thousand Island dressing are well worth the effort, but you'll get delicious results with whatever you have on hand.



Ingredients
| | | |
| --- | --- | --- |
| ~ | | Thousand Island Dressing * |
| 2 | slices | country-style bread |
| 2 | ounces | Gouda cheese, thinly slices* * |
| 3–4 | | marinated artichoke heart halves, drained |
| 1 | tablespoon | butter |
| 1 | tablespoon | olive oil |
* Homemade Thousand Island dressing provides superb flavor but you can substitute bottled dressing.**Have your local deli slice the cheese for you.
Directions
Spread the Thousand Island dressing on the inside of both pieces of bread.
Place two slices of the cheese on the inside of one piece of bread.
Fan the artichokes and place them evenly on top of the cheese.
Top with the remaining two slices of cheese and cover with the second slice of bread. Press the sandwich together with a firm hand.
Place the butter and olive oil in a grill pan or skillet set over medium-high heat. When the fat begins to sizzle, add the sandwich and grill until the bread turns golden brown. Flip and grill the other side until the cheese melts and the sandwich is heated through.
Serve immediately.
Preparation Time:
10 minutes.