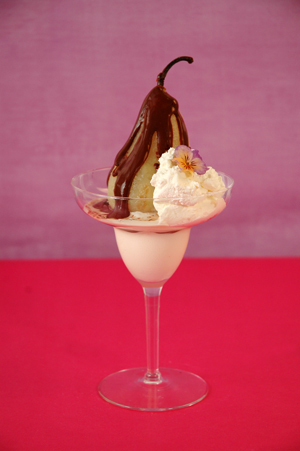 Poires Belle Hélène (Poached Pears with Chocolate Sauce and Crème Chantilly) Recipe
This classic French dessert is named for Helen, the legendary queen of Sparta. Mounded with crème chantilly and beribboned with lush chocolate sauce, it's every bit as irresistible as the queen herself.



Ingredients
| | | |
| --- | --- | --- |
| 4 | | firm pears, such as Bosc or Bartlett |
| 1 | cup | sugar |
| 4 | cups | water* |
| 2 | | lemons, zested and juiced |
| 1 | | whole vanilla bean, split and scraped |
| 1 | pint | vanilla ice cream |
| 1 | recipe | Chocolate Sauce |
| 1 | recipe | Crème Chantilly |
* You may substitute 2 cups of champagne or white wine for 2 cups of the water.
Directions
1. Combine the sugar, water, lemon zest, and lemon juice in a non-aluminum 4-quart saucepan.
2. Add the vanilla seeds and bean to the saucepan.
3. Bring the mixture to a simmer over medium high heat and cook until the sugar dissolves.
4. Remove from the heat and set aside.
5. Peel the pears, leaving the stem intact.
6. Using a melon baller, scoop out the core of the pear from the bottom.
7. Place the pears in the poaching liquid and return them to the heat.
NOTE: To keep pears submerged, cut a circle of parchment paper just a little smaller than the diameter of the saucepan and place the circle over the pears.
8. Bring the pears to a gentle boil, then reduce the heat to a simmer.
9. Poach the pears until tender, about 30 minutes. A toothpick should easily slide through the pear.
10. When the pears are fully poached, cool them to room temperature
11. Pour the pears and poaching liquid into a clean container, cover, and refrigerate until serving. Pears may be refrigerated over night.
Assemble the Poires Belle Hélène
1. Place a scoop of ice cream in each bowl.
2. Place a poached pear on top or beside the ice cream and drizzle with warm chocolate sauce.
3. Garnish with Crème Chantilly.
Preparation Time:
Under 60 minutes, plus overnight cooling.