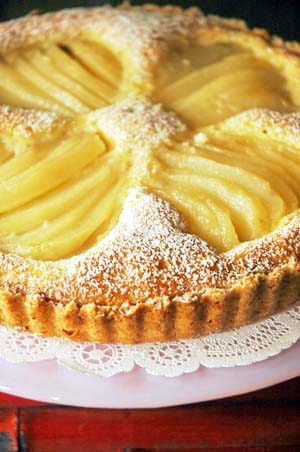 Frangipane Tart French Recipe
Tender poached pears in a rich almond filling offer a decidedly delicious celebration of autumn.



Ingredients
Directions
Preheat oven to 375 degrees. Place the shaped tart shell in the freezer to keep it cold while you prepare the filling.
In the bowl of a stand mixer, combine the sugar, zest and almond paste.
Slowly beat in the butter, scraping the sides after each addition.
Add the eggs, one at a time, mixing and scraping after each addition.
Add the flour and salt all at once and mix until smooth.
Spread the frangipane filling evenly across the chilled tart shell.
Cut each pear in half and then cut each half in a fan.
Use a spatula to lift the cut pears onto the tart, placing evenly at four points on top of the frangipane.
Place the tart on a baking sheet and bake for 45–50 minutes, until the frangipane is puffed and golden brown.
Cool on a metal rack.
Dust with powdered sugar just before serving.
Preparation Time:
About 1 hour with pre-made crust and poached pears;