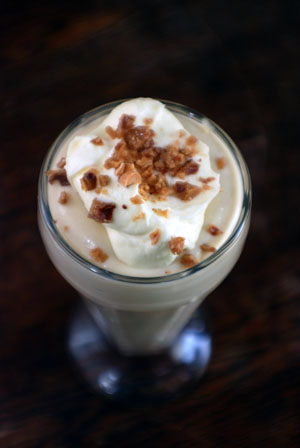 Butterscotch Pudding Recipe
It's hard to beat my childhood memories of butterscotch pudding from a box, but this heavenly formula does the trick: brown sugar, plenty of eggs and butter and a decadent candy topping. Grab two spoons and a friend!



Ingredients
1        cup                   peanut brittle, broken in to small pieces*
| | | |
| --- | --- | --- |
| 4 | | eggs |
| 5 | tablespoons | cornstarch |
| 3/4 | teaspoon | salt |
| ½ | cup | water |
| 1 | cup | packed brown sugar |
| 1 ½ | cups | heavy cream |
| 2 ½ | cups | whole milk |
| 5 | tablespoons | butter, cut into chunks |
| 2 | tablespoon | bourbon whiskey** |
| ~ | optional | whipped cream for decoration |
*Substitute Almond Roca or your favorite crunchy toffee candy.
**Use rum or Scotch whiskey if you prefer.
Directions
Set up a mesh strainer over heat-resistant bowl close at hand.
Whisk the eggs and cornstarch together in a spacious heat-tolerant bowl, mixing until smooth. Set aside.
Combine the cream and milk. Set aside.
Combine the salt, water and brown sugar in a deep, heavy-bottomed pan. Turn the heat to medium-high and bring to a lively simmer. Cook until the sugar turns a rich brown-red color—approximately 10 minutes.
Remove the sugar from the heat and slowly whisk in the cream mixture, stirring well to combine.
Note: Use care pouring the cream into the sugar as it steams and bubbles heartily. If the mixture seizes up into clumps, don't worry; place the pan back on the stove over medium heat and cook until the sugar melts into the cream. Remove from the stove and proceed with the recipe.
Whisk ½ cup of the hot caramel mixture into the egg mixture, whisking vigorously to prevent curdling. Add the remaining caramel mixture and whisk to blend.
Pour the mixture into a fresh saucepan and turn the heat to medium.
Cook, whisking constantly until the custard thickens enough to hold the tracks of the whisk. (It should look much like mayonnaise.)
Remove from heat and add the butter and bourbon. Mix well
Pass the butterscotch pudding through a mesh strainer to remove any bits that may have curdled.
Cool to room temperature
Cover with plastic wrap and refrigerate 3 to 4 hours or overnight.
For best flavor, remove the butterscotch pudding from the refrigerator 20–45 minutes before serving.
Spoon into pretty bowls and top with a dollop of whipped cream and generous sprinkling of crushed peanut brittle.
Preparation Time:
approximately 25-30 minutes plus downtime