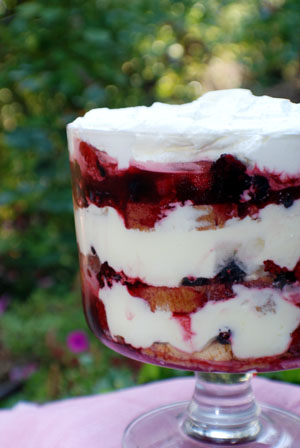 Summer Berry Trifle Recipe
Although this recipe has several components, it's actually quite convenient to prepare, since all of the elements can be made well ahead of time. Pile fresh fruit and mint leaves on top just before serving for an extra-pretty presentation.
Recommended dish: Clear glass trifle bowl



Ingredients
| | | |
| --- | --- | --- |
| 1 | | pound cake, sliced ½-inch thick* |
| 1/2 | cup | Grand Marnier liquor |
| 2 | cups | heavy cream, cold |
| 1/2 | cup | sugar |
| 3 | tablespoons | lemon juice |
| 1 | recipe | lemon curd** |
| 1 | recipe | Very Berry fruit topping |
| ~ | | mint leaves for decoration |
| | | |
*Good-quality store bought pound cake works great here, and saves a lot of time.**Homemade lemon curd is well worth the effort, but the bottled kind can be used in a pinch.
Directions
Spread the cake slices on a clean working surface and brush one side with Grand Marnier. Set aside while you prepare the lemon cream.
Pour the cold cream in to the bowl of an electric mixer and whip until thick. Add the sugar and lemon juice and continue whipping to soft peaks.
Place the lemon curd in a separate bowl. Measure out two cups of the whipped cream and fold it into the curd.
Use about one third of the cake slices to line the bottom of your trifle bowl, cutting as needed to fit.
Cover the cake with one third of the Very Berry fruit and juice.
Spread half of the lemon cream over the fruit.
Add another layer of cake, half the remaining fruit and all of the remaining lemon cream.
Finish by layering on the remaining cake and fruit.
Top the trifle with the remaining two cups of whipped cream.
Cover with plastic wrap and refrigerate for several hours.
To serve, spoon the trifle into individual bowls.
Preparation Time:
40–45 minutes with pre-made lemon curd and Very Berry topping. Plus several hours downtime so that the flavors meld.