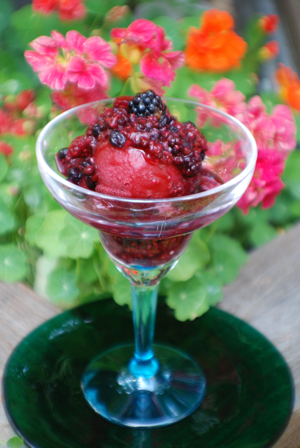 Very Berry Sorbet Recipe
This luscious sorbet is like a berry-lover's dream on ice. Serve it unadorned to best showcase the complex blend of berry flavors.



Ingredients
Directions
Pour the very berry topping into a mesh strainer set over a bowl and allow to drain. Do not mash the berry solids.Note: Once you've completed your sorbet recipe, add 1 cup of water to the berry solids and mix well. Cover and return them to the refrigerator for several hours and then use for other recipes. Spoon the very berry topping over the sorbet for an elegant dessert, or over cake or ice cream.
Set aside the berry solids and measure the collected juices.
Add water to the juices if needed to reach 3 cups of liquid.
Combine the berry liquid and simple syrup in a spacious bowl.
Cover with plastic and allow to ripen in the refrigerator for 4–6 hours.
Remove the liquid from the refrigerator and process in an ice cream maker according to the manufacturer's instructions.
Place the finished sorbet in a container and freeze for 8 hours or overnight.
Remove the sorbet from the freezer 10 minutes before serving.
Preparation Time:
Under an hour with pre-made Very Berry Topping, plus 12–14 hours downtime