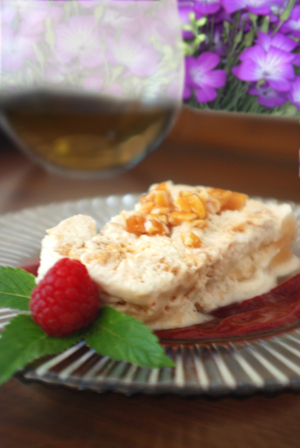 Nougat Glace with Raspberry Coulis Recipe
Creamy meets nutty meets frosty in this delightful dessert. Although it takes a bit of effort to create the frozen terrine, it can all be done a day or more ahead. Perfect for a party!



Ingredients
| | | |
| --- | --- | --- |
| 1/2 | cup | sugar |
| 1 | cup | slivered almonds, toasted |
| 1/2 | cup | honey (preferably lavender) |
| 6 | | egg whites |
| 1 | cup | whipping cream or crème fraiche |
| 1/3 | cup | Grand Marnier |
| 1 | recipe | raspberry coulis |
Directions
To make the praline, lightly coat a baking sheet with cooking spray and set aside.
Heat the sugar in a heavy-bottomed saucepan over medium-high heat until the sugar melts and turns rich golden brown—about 10–12 minutes. (Shake the pan occasionally as needed to encourage even cooking.)
Remove from the heat, immediately stir in the toasted almonds and pour the mixture in a thin layer on the prepared baking sheet.
Cool completely and chop into small pieces. Set aside.
Line a loaf pan with two sheets of plastic wrap, one going lengthwise, the other covering the width. Leave enough draped over the edges to bring over the top of the mold when filled.
In the bowl of a stand mixer, beat the eggs whites until stiff.
In another heavy-bottomed saucepan heat the honey until it reaches hard ball stage, 248 degrees.
With mixer running, pour the hot honey in a thin stream into the whipped whites and continue beating until the mixture cools—about 10 minutes.
In another bowl whip the cream to semi stiff peaks and fold in the praline and Grand Marnier.
Gently fold together the egg whites and the whipped cream and use a spatula to spread into prepared mold.
Cover with plastic wrap and freeze for a minimum of 12 hours.
To serve, cut into 12 slices and place each in a pool of

raspberry berry coulis

with berries and fresh mint.
Preparation Time:
1 hour; Freezing Time: 12 hours.