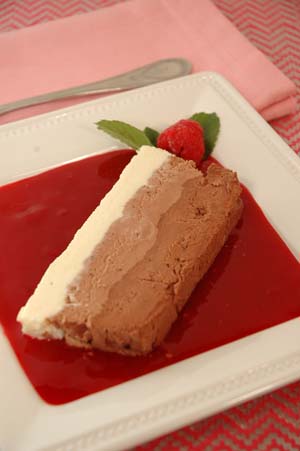 Triple Chocolate Terrine with Raspberry Coulis Recipe
This gorgeous dessert tastes as good as it looks. Sweet, ruby-red raspberry coulis is the perfect accompaniment to show off both the colors and the flavors of this show-stopping terrine.



Ingredients
| | | |
| --- | --- | --- |
| Terrine | | |
| 7 | ounces | bittersweet chocolate, finely chopped |
| 6 1/2 | ounces | milk chocolate, finely chopped |
| 5 | ounces | white chocolate, finely chopped |
| 3 | cups | whipping cream |
| | | |
| Raspberry Coulis | | |
| 1 | 10-ounce package | frozen raspberries, thawed |
| 1 | tablespoon | lemon juice |
| 1/2 | cup | water |
| 1 | tablespoon | cornstarch |
| 1/4 | cup | granulated sugar |
| ~ | | mint leaves, for garnish |
| ~ | | fresh berries, for garnish |
| | | |
Note: Use best quality chocolate such as Scharfenberger or Valrhona.
Directions
Place the chopped chocolate in three separate bowls.
In a medium saucepan, bring the cream to a boil. (Watch closely since unattended cream can boil over in an instant.)
Immediately pour 1 1/4 cups of hot cream over the bittersweet chocolate, 1 cup over the milk chocolate, and 3/4 cup over the white chocolate. Whisk each mixture until smooth.
Allow each bowl of chocolate to cool, then cover it with plastic wrap and refrigerate until thick but not hard—About 2 hours.
Line an 8-inch bread pan with plastic wrap or foil, leaving a 1-inch overhang around top edges of pan.
Remove the bittersweet ganache from the refrigerator and beat it with an electric mixer until thick, soft peaks form.
Spread the mixture into the prepared pan, smooth with a spatula, cover with a fresh sheet of plastic wrap, and freeze for 5 minutes.
Remove from freezer, remove the plastic wrap and repeat steps 6 and 7 with the milk chocolate and then the white chocolate, freezing for 5 minutes between layers.
Cover the final white chocolate layer with plastic wrap and freeze overnight.
Make the raspberry coulis: In a blender or food processor, puree raspberries. Using a spatula, push the puree through a fine mesh strainer to remove the seeds.
In a medium saucepan combine the strained raspberry puree, lemon juice, water, cornstarch, and sugar. Cook over medium heat, stirring constantly, until mixture comes to a boil. Boil for 1 minute.
Cool, cover with plastic wrap, and refrigerate until ready to use.
To serve the terrine: Remove from the freezer 15 minutes before serving. Just prior to serving, lift the terrine out of the pan, peel of the plastic wrap, and slice.
Pour a pool of raspberry coulis on each plate and place a slice of terrine on top. Garnish with fresh mint and berries.
Preparation Time:
Under 60 minutes plus cooling and downtime.