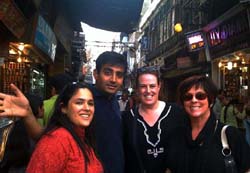 India. For me it was love at first sight—a great passion that I can't explain. It just is. Much like an old lover, India is at once familiar, always unfolding, drawing me in.
Each time I ready for the long flight to New Delhi, someone inevitably asks what I'm looking forward to most. Could it be the promise of exploring exotic new places or crazy, often outrageous adventures? Yes. But honestly, I thrill most of all to see my Delhi family and friends and indulge in a non-stop feast of Indian food that goes on for weeks. After all, who can resist sensuously flavored meat curries, platters of fragrant rice pilous, and beautifully spiced vegetables. And let's not forget hot-off-the-fire flat breads—especially when dipped in fresh homemade chutneys and pickles. Best of all, street food—glorious street food!—those quick, inexpensive snacks sold everywhere by sidewalk vendors and at small kiosks and neighborhood stands. Bring it on!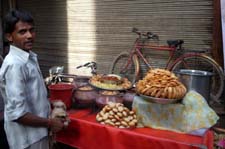 I discovered Indian street food on my first trip years ago during an afternoon of sightseeing at the Red Fort and shopping in Chandni Chowk, Old Delhi's legendary market that looks like a scene out of an Indiana Jones movie. It was very hot when my Indian friends stopped for a savory plate of chaat containing pieces of potato, crisp fried bread, garbanzo beans, yogurt, spices and chutney, served on a brilliant green banana leaf. Wow, it looked good. So I ordered one, dug in and devoured it. Life was never the same afterwards.
There are so many street treats to try but some of my favorites are pakoras (vegetable fritters made with thin slices of potato, cauliflower, onion, spinach leaves, or eggplant), samosas (fried pastries stuffed with spiced vegetables or meats) and most variations of chaat. Of course, all are dipped or topped with tangy and sometimes fiery chutneys like tamarind and green cilantro.
To my mind, nothing beats bhel puri, which nourished me on many long walks along Mumbai's famous Juhu Beach. This wildly popular local concoction of puffed rice, potatoes, onions, crushed padi, sev, and spices is available everywhere in India, and is the first thing I look for after touching down in Delhi.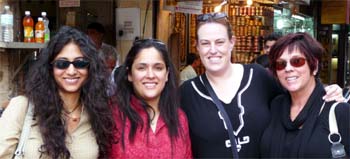 My friend Shefali Manilal knows of my passion for street food and invited me to join her and friends Rahul and Gayatri Babbar and Alx Wagner for an afternoon of shopping in Old Delhi. It was Alx's first trip so we wanted to show her all the sights. Rahul, the resident street food expert, made plans to eat his way through the area—showing me the best places along the way. While I love shopping in Chandni Chowk even without the snacks, the idea of an ongoing afternoon feast made the excursion irresistible.
We all headed to New Delhi's new underground Metro and made our way to the ancient walled city in record time. As we ascended the polished, modern stairs, Rahul warned us to hold our noses against the dreadful smells outside and run quickly from the station through the alley to the main street.
As we regrouped, Rahul pointed to his favorite Natrang Dahi Bhalla corner stand where we braved the crowds for plates of dahi bhalla, a mixture of moong dal, curds, spices and tamarind chutney served in small aluminum throw-away plates. This savory treat was gone in no time and we moved on to aloo tikki (spicy fried potato cakes with chutney). So good.
Licking our fingers, we hired two old rickshaws for the ride through the long, winding alleys of the market in search of exotic treasures and gifts for the folks back home—and of course, the next course in our feast.
I soon realized that Shefali, Gayatri and Alx were not interested in eating with us because they questioned the food safety. I couldn't blame them; a raging case of "Delhi belly" is always a risk in areas where there may be tainted water or poor food storage conditions. While I'm an adventurous eater with a cast iron stomach, I always exercise good judgment when approaching a stand. If the vendor or stand looks dicey and unclean, I move on. It also helps to have a local guide and foodie like Rahul steering one to the better places.
As we forged deeper into the market, I noticed that there were far fewer sidewalk vendors than in years past. What was happening here? Rahul told me that that the government is cleaning up the street food industry that serves millions of people throughout the sub-continent each day. Individual vendors were disappearing in favor of controlled kiosks and neighborhood stands.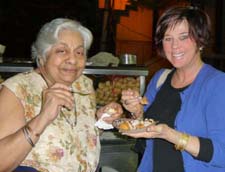 Later at home I told my host and great friend, Leela Manilal, about my afternoon adventure. She told me there was very good street food just blocks away from her home in Vasant Vihar. In the coming days we often headed there in the early evening for plates of fresh chaat. I never tired of watching the cooks prepare orders in their huge outdoor tavas (cooking pots much like a wok). It was especially satisfying to watch them fry a dozen samosas, then bring the fresh goodies home to the family for tea time.
With all the apprehension about cleanliness, Indian home cooks have taken to creating traditional street foods in their own kitchens, where they can fine-tune the recipes to the individual tastes of their families. Leela and I have made street food at home for years. After all, one of the worst things about returning home from India is weaning myself off the food. Early on, it became obvious that I had to learn to cook Indian if I was to survive until the next trip.
So, are you feeling adventurous? Come into the kitchen with me and we'll start simple with aloo tikkies and cilantro chutney—just like Old Delhi. The name is terribly exotic, but the dish is nothing more than mashed potato (without the butter and cream), minced onion, grated ginger and spices, formed into patties and fried. Easy. The chutney takes minutes in your food processor or blender. Zip—done. You'll love these for parties and as a side dish with grilled or roasted meats.
Pakoras may be a bit intimidating at first, but you'll soon get the hang of dipping the vegetables into the batter and frying them. Serve pakoras with fiery green chutney—or not, if you have heat issues. They are superb appetizers and guaranteed to get rave reviews.
Eating should always be an adventure. If you go to India, be fearless and give street food a try. You won't be disappointed. And I must agree with Rahul who believes that while homemade street food is wonderful (and safe!), it lacks that special layer of grime and pollution—and ultimately never tastes the same.
Get printable copies of my homemade street food for your convenience.