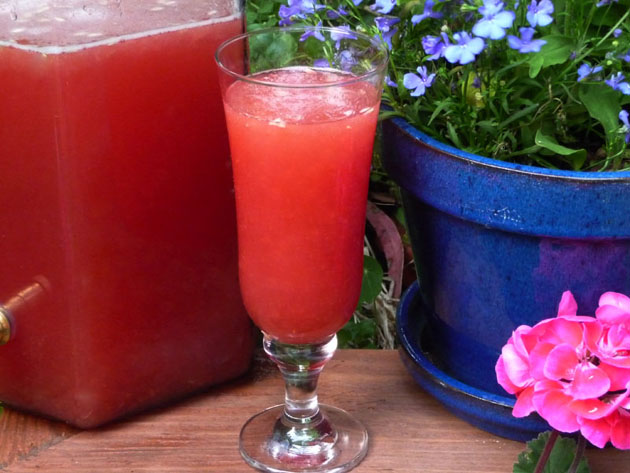 It's so hot outside and I'm meeeelting—but not for long. There is a big jug of Mexican agua de sandia (watermelon water) in the refrigerator to cool me off. Simple to make, this irresistible, brilliant pink thirst-quencher requires a big ripe watermelon, a little sugar, a couple of sprigs of mint if you're feeling fancy—and a blender. Oh, how I love my blender in the summer.
There is no hard and fast recipe as the proportions of juice to sugar are up to you. How much juice do you want—a simple pitcher full or a spouted jug big enough for a group? Know that nine pounds of watermelon yields approximately 8 cups of agua de sandia. Adding sugar depends on the sweetness of your melon and personal preference. Usually 1 to 1½ cups does the trick for this size melon.
Ripeness is key to the taste of agua de sandia. Selecting a good watermelon and cubing it for juicing is easy with the illustrated, step-by-step tips included in my May 25 blog entry, Sweet, Salty, Simply Summer: My Favorite Watermelon Salad.
When making juice, I always set-up a simple station and work in batches: 1) bowl of cubed watermelon; 2) blender for liquefying the watermelon and 3) a metal strainer set over a bowl or wide-mouth jug to remove any pulp. When completed refrigerate the juice for 2–4 hours or until icy cold.
Serve the agua de sandia in tall glasses with a sprig of mint—or not. (Although, I must say that this gorgeous pink drink with scented green mint is good for the soul on a hot day like today.)
I don't know about you, but I'm heading out to a shady spot in the garden with a good book and glass in hand. And if I'm lucky, a cool ocean breeze with blow in soon. If not, another glass should do the trick.