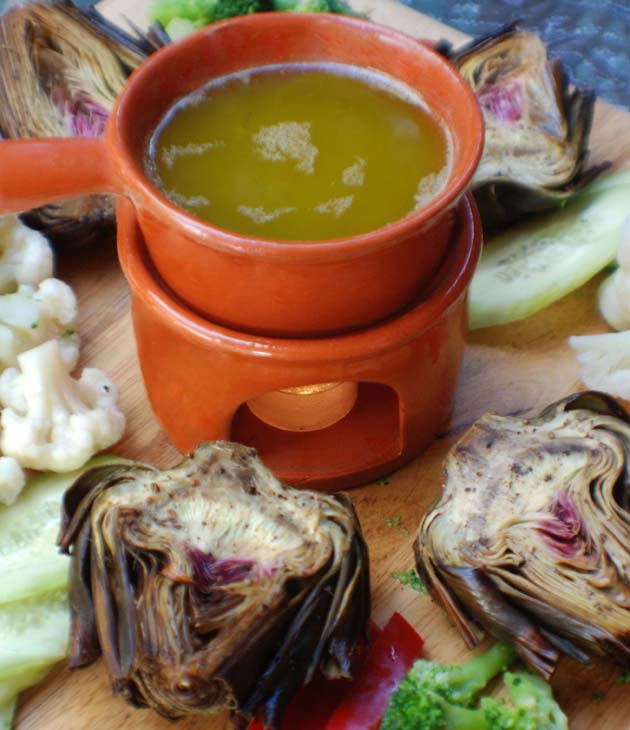 We're all getting tired of cold, cold winter, so when the sun came out for a few short hours, everyone at my house headed outdoors to soak it up. I followed them with a hot bowl of bagna cauda, a tray of bite-sized vegetables and a loaf of crusty French bread for dipping.
Bagna cauda is a simple Italian mixture of olive oil and butter infused with garlic and anchovies. The proportions are basically up to the cook. What's your pleasure? Some prefer more oil while others go heavy on the melted butter. A hint of garlic or enough to keep the vampires away—after all we're all in this together, so garlic breath is not an issue. Then there are the anchovies, those controversial little critters you either love or hate. Do you want a subtle sophisticated flavor or a fish-infused jolt? Personally, I prefer a mixture of 2/3 cup of good olive oil with ¼ cup of butter, lots of garlic and no more than four anchovy fillets. Some cooks delight in eight to 10 fillets, in which case I must pass on the sauce and fill up on the veggies, bread, and a crisp glass of white wine to drown my disappointment.
As we all sat around the old garden table laughing and sharing the feast, the winds picked up and things got cold really fast. I was reminded of the early vineyard workers of Piedmont, Italy, who depended on this pungent dish to warm them up in the fields on cold winter days. Like the peasants that originated it, the vineyard workers consumed their bagna cauda in large rustic pots set over an open flame. Today, I served it in a terra cotta pot set over a candle to keep it warm. No matter your heat source, never boil the sauce or you risk spoiling it quickly.
Italians serve fresh local vegetables like fennel, cardoons and peppers for dipping, while I chose cauliflower florets, peppers, cucumbers, broccoli and artichokes for my platter. In California we are fortunate to have an abundance of winter produce choices that can be served raw, blanched or roasted.
Many home cooks go into the kitchen and madly chop a bunch of vegetables for immediate consumption, and while this works well for cucumbers and peppers, there is a much better way for sturdier items like broccoli, cauliflower and carrots. Take the time to blanch these vegetables in salted boiling water for several minutes, then plunge them into ice water to stop the cooking process. You'll be amazed at the difference between hard, gray-green raw broccoli florets and the tender, emerald green morsels you get after blanching. A veggie worthy of all that delicious sauce!
I'm also a great fan of roasting vegetables like artichokes. Simply halve them and cut away the thorny tips of their leaves with scissors. Rub with olive oil, then place a clove of peeled garlic, a lemon slice and sprig or two of fresh thyme on each half and place face down on a baking sheet. Roast them in a 375-degree oven for approximately 50 minutes, or until the leaves pull away easily. Try this once and you'll never boil an artichoke again.
Bagna cauda is the essence of simple food shared with friends and family; both warming and fortifying us for the next big storm.