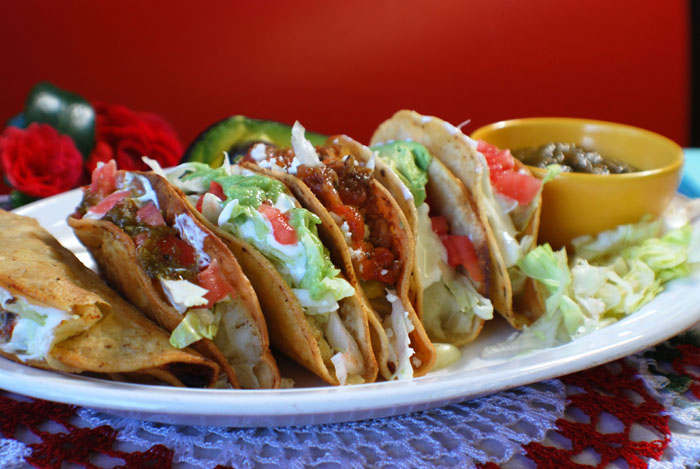 Tacos de Dorado—I loved eating them on the streets in Mexico (way too many if you must really know). When freshly fried, these are absolutely delicious and so addictive. Any over-indulgent guilt quickly disappears when you tell yourself how nutritious they are. (Try it, it really works!)
I especially loved the day that my friend Yolanda, a great Mexican cook, taught me how to make this super quick and easy vegetarian version. In less than 15 minutes one can fry a dozen corn tortillas slathered with refried beans, mashed potatoes or cheese to crispy perfection.

Once you've fried up the basics, the fun begins. Embellish the tacos with shredded lettuce and cheese, chopped tomatoes, onions and jalapeño peppers and sliced avocados. In my family, everyone creates their own favorite style. Some top theirs off with a dollop of sour cream while others go heavy on the spicy salsa. Bottled is popular at my house, although I often whip up the homemade kind when time permits.
One suggestion before you begin: make lots, make lots, make lots. These go very fast.
Frying the Tortillas
For the very best flavor, fry the tacos as close to possible before serving.
1. Pour oil into a spacious, heavy-bottomed skillet to a ½-inch depth. Heat it over a medium-high flame until 350-degrees—or sizzling.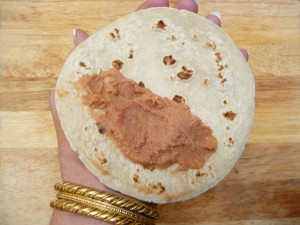 2. Place several tablespoons of refried beans, mashed potatoes or shredded cheese on one side of the tortilla.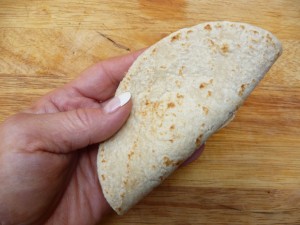 3. Fold the tortilla in half and hold it closed with your hand.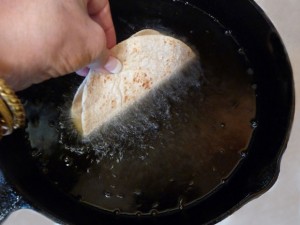 4. Place the bottom of the taco into the hot oil and hold in place for 12–15 seconds.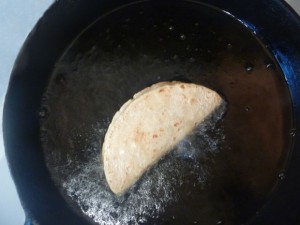 5. Turn to the side and cook until golden. Flip and fry the other side.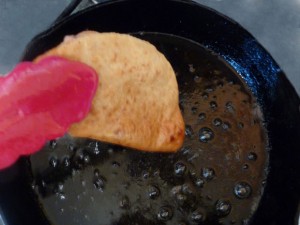 6. Remove from the oil with tongs or a large slotted spoon. Tip sideways and allow the excess oil to drain. Place on a clean working surface lined with paper towels. Blot.
Repeat the process until all 12 tacos are fried.
Fill the Tacos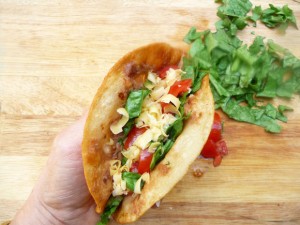 1. Fill the tacos by carefully opening them and adding your favorite toppings.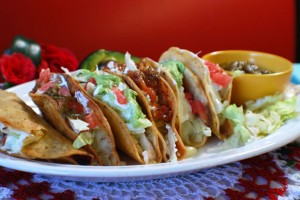 2. Serve promptly.
Print a copy of Tacos de Dorado for your convenience.