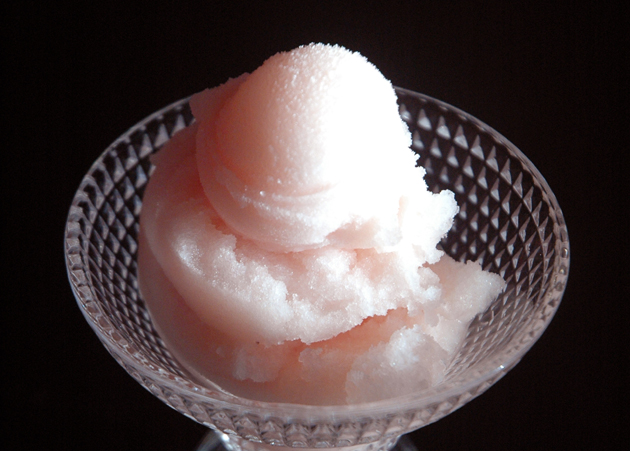 I love this icy cold grapefruit-champagne sorbet, especially after a rich or spicy meal. Pretty and pink, its unique flavor shines bright with Ruby Red grapefruit juice and bubbly sweetened with simple syrup. Nothing could be easier to prepare especially when you know a few tricks.
Buy an inexpensive bottle of champagne or sparkling wine for this and save the good stuff for drinking. This is also a great way to use up partially used bottles from your New Year's celebration.
Use freshly squeezed grapefruit juice; never ever think about bottled, canned or frozen juices as they won't provide the same bright flavor. Never.
Ruby Red grapefruits are my favorite for this sorbet because they are juicier and sweeter than many varieties and impart a soft, wintery pink color. Ruby Red's are in the markets year round but plentiful this time of year through early spring. If they are unavailable in your area substitute any grapefruit of choice.
Make your own simple syrup—it's easy and cost pennies. My recipe calls for more sugar than some because it helps maintain the delicate flavor often lost in the freezing process.
Grapefruit-champagne sorbet is a great make-ahead dessert. Chill all the ingredients 4–6 hours before processing in your ice cream maker. Once finished, harden the sorbet overnight in the freezer. Both steps are key to success.
Simple. Elegant. Delicious. So cool.
Print a copy of Grapefruit-Champagne Sorbet for your convenience.