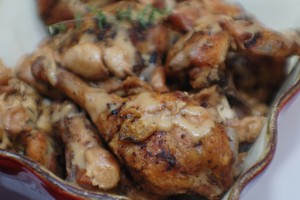 Looks good, huh? Someone took a bite out of the leg before the platter made it to the table. It never fails. Every time I make chicken with 40 cloves of garlic the group here goes crazy. They buzz the kitchen sniffing and salivating once the scent of its sweet, earthy goodness fills the air.
As I warm the baguettes and slide hot noodles into a large bowl, the group starts loosing control. Plating the chicken is a nightmare as they grab spoons from the drawer to "test" the gravy. Finally finished, I yell, "to the table" and the stampede out of the kitchen is immediate. Whooof.
You may be wondering how on earth a simple dish of chicken and garlic drives my family and friends wild. Let me share a few tips that make it over-the-moon-wonderful.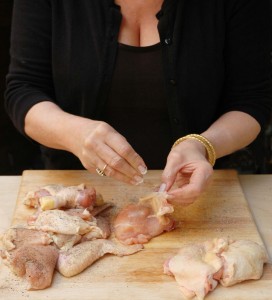 The secret to great-tasting chicken begins with a light sprinkling of salt 24 hours before you're ready to cook. It makes all the difference between a bland bird that depends on gravy for its flavor and one that delights with every bite.
Rub the salt into the raw meat and over the skins. (I also like a bit of freshly ground black pepper just because I do.) Done.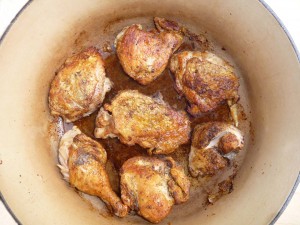 Sauté the chicken pieces to golden brown crispiness. Remove from the pot and toss in the 40 cloves of garlic, cooking until golden. Scoop them out and set aside.
Empty pot—or is it? It's actually coated with tiny, flavorful bits of browned chicken and garlic scattered around the newly rendered fat. This is the holy grail of awesome gravy.
Capture all that goodness with a bit of wine or chicken broth and lots of vigorous scraping to integrate the flavorful bits into the liquid. The rest is basic gravy making 101: butter, flour, drinking quality white wine, broth and salt and pepper. You can fancy it up with cream and brandy, but keep it simple the first time.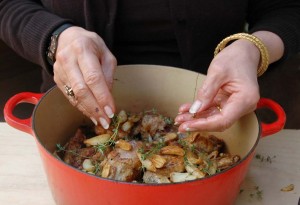 Place the crisped chicken pieces skin-side-up in the pot. This is important because if placed skin-side-down, the fatty chicken skin will stew in the gravy becoming slimy and inedible. Not pretty. Tuck the garlic and fresh thyme sprigs in and around the chicken rather than tossing randomly. Pour the gravy around the chicken pieces and over the tops. You want the meat roasting, not stewing in a giant puddle of liquid. Cover the pot and let the magic begin.
As to controlling ravenous, unruly diners that can't resist this amazing dish, you're on your own.
Print a copy of Chicken with 40 Cloves of Garlic for your convenience.