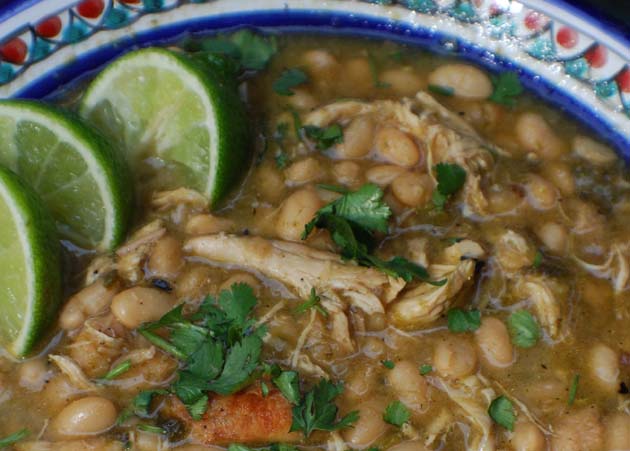 White chili is filled with wonderful flavors and textures: beans, shredded chicken, chiles, onions, garlic, cumin…. So why does it so often end up as a boring dish that's just hot and nothing else?
I took a look at my old family recipe that I had not made in years and immediately saw why it's always been a poor second cousin to the fiery red chili I love. With a few simple cooking techniques learned from Mexican and Indian cuisines, I've finally made white wonderful.
The obvious: Give up the seemingly quick and easy, expensive canned and bottled ingredients for fresh. If your chili is flavorless, you're wasting your time.
Beans. Many standard recipes call for several jars or cans of fully cooked white cannellini beans that cost two to three dollars each. Home cooked great northern beans are economical and your best choice for texture and flavor. When combined with the other ingredients, great northerns absorb all the flavors, giving you a tasty, tender bean rather than the overcooked, mushy results you get with canned.
Chicken. White chili recipes often require breast meat that can be bland when poached in water. Long, ago, I learned that dark, flavorful thighs are preferred in Indian curries because they absorb the onion, garlic and spices while imparting their chicken goodness to the gravy. I decided to use half thighs and half breasts for flavor and the white color.
Stock. I prefer homemade chicken stock for absolutely best flavor, but realize that many home cooks reach for canned convenience. Make it low sodium and you'll be fine.
Onions, garlic and spices. Sauté everything in the chicken fat, rather than ordinary oil, for richer flavor. When it comes to dry spices, I depend on the Indian method of roasting the cumin and coriander in a cleared area of the pan for 30 seconds before mixing them into the mixture.
Chiles. No canned chiles for this dish unless you absolutely can't find fresh, mild pasillas and anaheims, as well as the hotter and more common jalapenos. My secret is fire-roasting the chilies for a deep smoky flavor. While it's great fun to do this in the ashes of a wood-burning fireplace (try it if you have one!), the simplest approach is to use a gas range. Just follow these easy steps:
Place the chiles over a high flame, turning them as they blacken.
Remove the blackened chiles from the flame and immediately cover them with a clean towel.
Let them sweat for 10 minutes.
Remove the towel and peel off the charred skin with a paring knife or your fingers. Remove excess pieces of skin with a paper towel.
Make a slit in each chile and carefully remove the seeds.
Rinse the chiles in cool water to remove any remaining skin bits or seeds.
One last tip:Chileshave different heat levels throughout the year. The same variety that blew out your eyeballs one week may be meek another. Check with your produce person and always taste and adjust as you cook.
Now, this is a white chile you can be proud of. Ladle it in to bowls and top with chopped cilantro and lime wedges for spritzing. Add some hot, golden cornbread and life is good.
Print a copy of  White Chili  and How to Roast Chilies for your convenience.