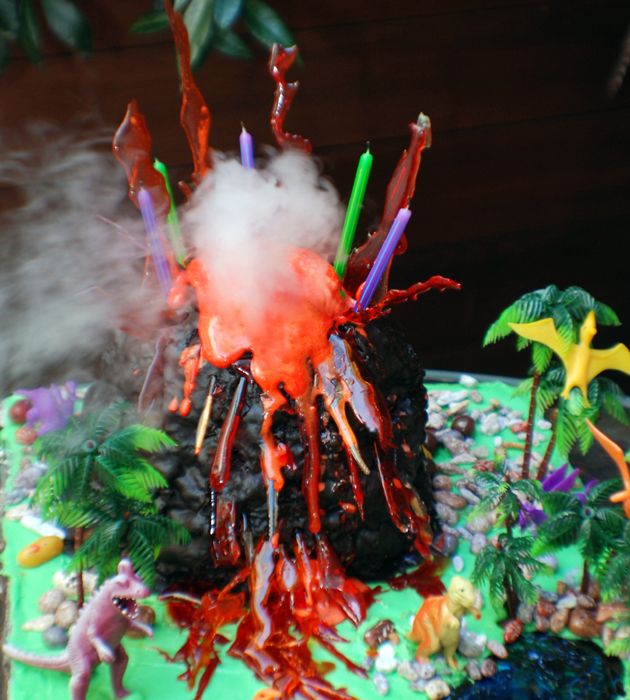 It smokes, it gurgles and bubbles, then spews orange marshmallow lava over a dark chocolate mountain of cake. The crowd goes wild!
I made my first Amazing Erupting Volcano Cake several years ago when Chef Catherine Christiansen sent the recipes for her Beyond Wonderful baking column. At first glance they seemed complex, but with a bit of planning the cake was easy and came together quickly. This cake is all about fun so don't get hung up on perfection. Embrace all its lumps, bumps and crumbs—they add character and keep you sane.
First pick a theme, then let your imagination soar. I've made this cake with dinosaurs, super heroes…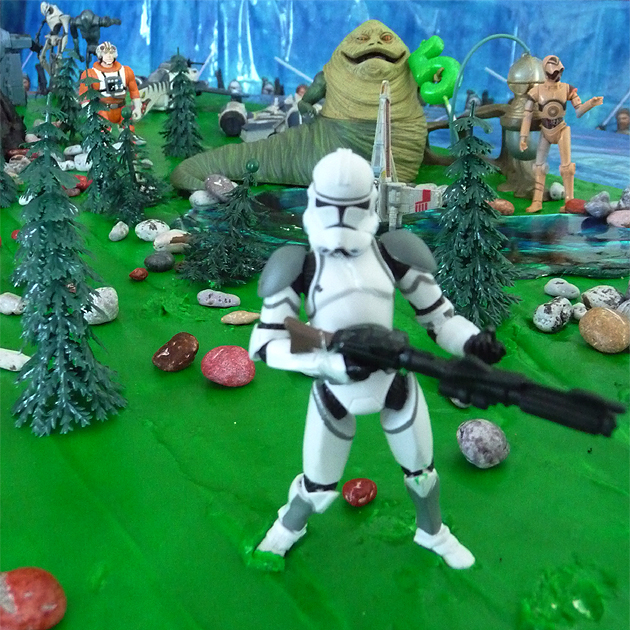 Star Wars characters and …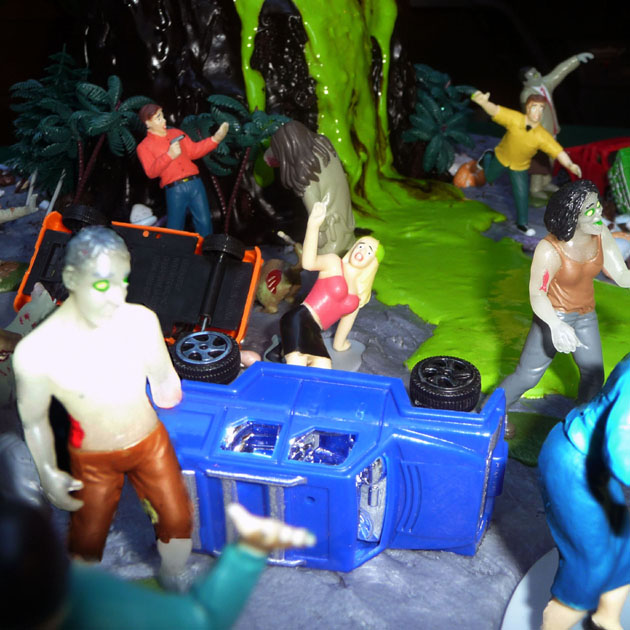 …zombies—lots of zombies slipping and sliding in  green slime.
You'll find everything you need at cake supply, party and toy stores; from small bottles of brilliant red, orange and turquoise food coloring to plastic trees, edible rocks and a variety of characters, candles and costumes for added party fun.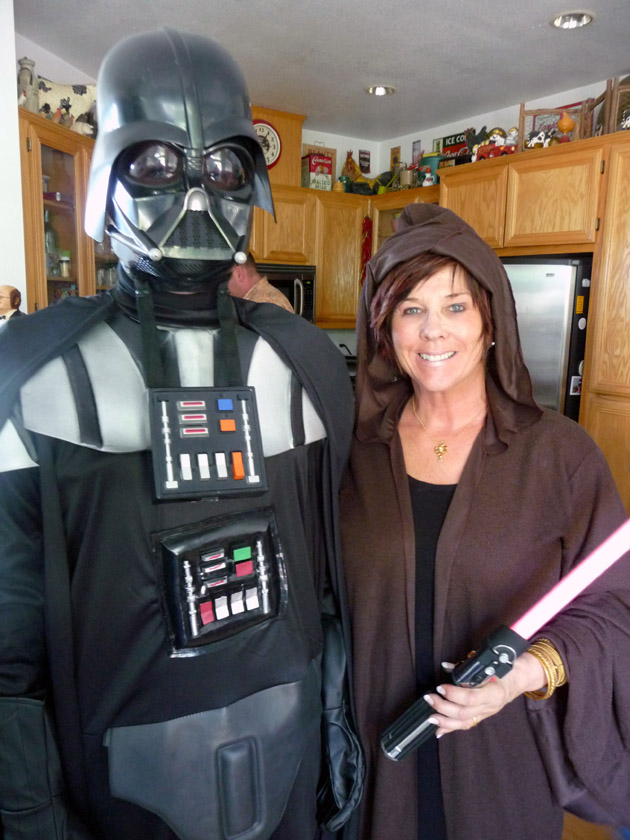 Who can resist Darth Vadar and a Jedi Master blowing up the Amazing Erupting Volcano cake?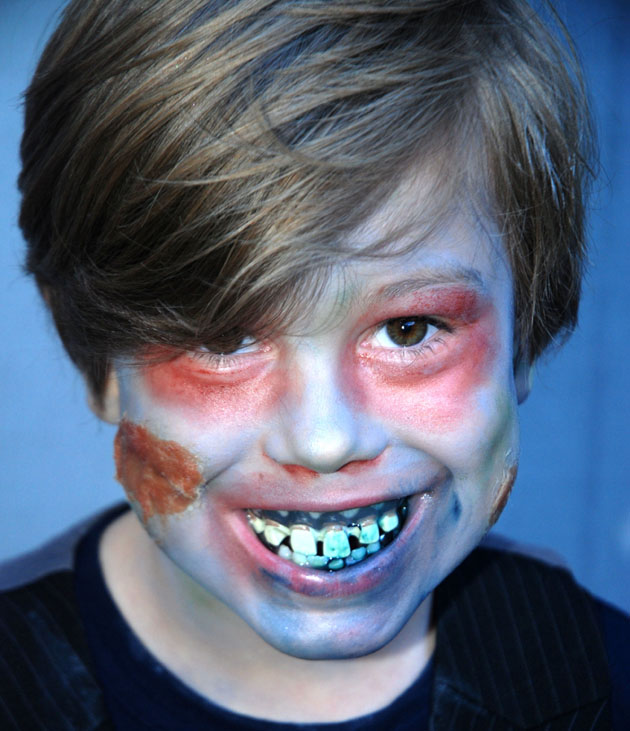 And with a little face paint and disgusting teeth, this birthday boy looks like he jumped off the zombie cake.
I bake the cakes and prepared the black chocolate and green buttercreams and the Kahlúa soaking syrup the day before assembly. Next day, I frost the cakes, made the sugar lava and lake and color the marshmallow lava. Assembly is a breeze and great fun. Once the Amazing Volcano stands before me in all its glory, I just can't wait to blow it up! When it's time, everyone gathers and holds their breath as I fuel the cake with cubes of dry ice, hot water, and warm lava. Then it starts—a little smoke—a few bubbles—lots of hoots and hollers—and over the side it goes. "That is so cool! I want that cake for my birthday." "WOW!" Soon the group joins in a rousing chorus of Happy Birthday with intermittent giggles as the volcano continues its spectacular show.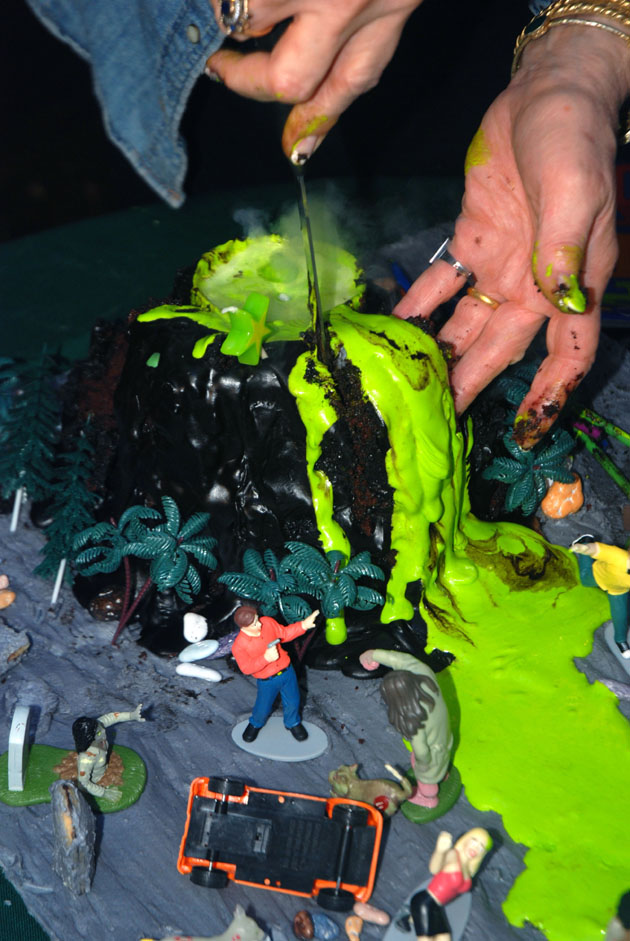 As the lava…or oozing slime slows, everyone goes for the cake and just can't believe how good it is. More than a few have a second piece, but my mind is always on the leftover chocolate frosting. No matter how delicious—and how spectacular—the cake, it's hard to beat the thrill of pure buttercream, sneaked on the sly. Give me a spoon.
See more photos from the hilarious zombie birthday party on our Facebook page.
Get a printable copy of The Amazing Erupting Volcano Cake.