Michael De Loach on Champagne and Sparkling Wine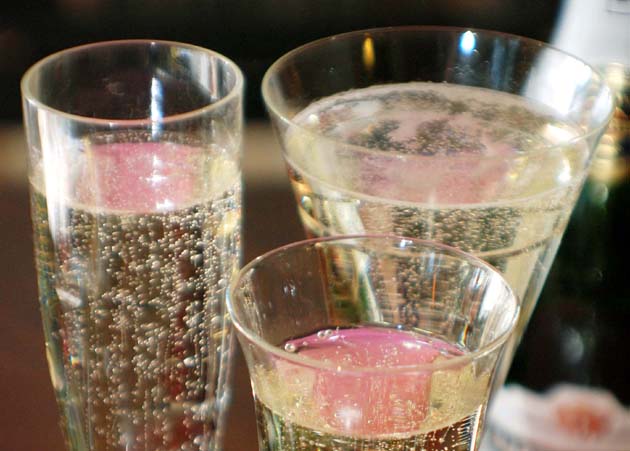 Well, well. Once again we find ourselves in that time of year when we're all supposed to drink "bubbly." Of course the very notion of a bubbly "season" is puritanical nonsense; there's no reason we can't enjoy this delightful beverage all year round. But first, let me clue you in: if you're buying wine with bubbles, you're probably doing it all wrong.
Following is a brief synopsis of the various types of Champagne (the Real Stuff) and other wine with bubbles, followed by my recommendations on which general categories to stick with.
CHAMPAGNE-Okay, this is easy. It's the stuff from the Champagne region of France. Sure, there's stuff labeled "Champagne" that's made right here in the Good Ol' USA, but that's just another big Wine Label Lie (see September's article). Now for the harder part: when you do buy Champagne, my guess is you probably buy those big fancy brands you've heard of. You know- Veuve Clicquot, Moët & Chandon, Mumm, Perrier-Jouët (the Flower Bottle), Pol Roger, Louis Roederer (of Crystal fame), Taittinger, Krug and Salon (okay, Salon is my personal weakness).
Whoops! These big names (the French call them "Grandes Marques") are usually the most expensive Champagnes available, but oddly, they are neither rare nor terribly special. They are a blend of hundreds of vineyards from all over the region and from several different vintages, made in multi thousand-case batches. The total production of the Grandes Marques is over one million cases!
Worse, these Big Brands, as you might have guessed, are owned by a handful of huge conglomerates rather than the small artisinal producers who so richly deserve our support. Furthermore, the Champagne giants only own or control a tiny fraction of their own vineyards, purchasing most of the fruit or juice from hundreds of independent growers. The largest owner of these Champagne houses is called Louis Vuitton Moët Hennessy (yes, that Louis Vuitton) or LVMH, and has a total market capitalization of approximately $10 Billion. In Champagne, LVMH owns Moët & Chandon, Dom Pérignon, Veuve Cliquot, Krug, and two lesser-known brands.
Two years ago just three of the Big Brands-Veuve, Moët, and Mumm (note two are owned by the same company) comprised a full 66% of the entire US Champagne market… Hello? Where's Anonymous and Occupy Champagne on this one?
So what's the alternative? Grower Champagnes (in France "récoltant-manipulant" or "RM"). These Champagnes are lovingly hand-made by the growers themselves, in very small amounts. And since they reflect the unique character of the small vineyard they were grown in (instead of a huge composite blend of an entire region), they taste better and are inherently more interesting. What's more, in most cases, they're also cheaper!
The wonderful irony here is that unlike an expensive, exclusive pair of Louis Vuitton shoes that not everyone will get to wear, much more of the expensive "luxury brand" Champagne is made and available than the way cheaper (yet much rarer, vintage dated, hand-made) grower Champagne. So buying grower Champagne is sort of like getting the latest Christian Louboutin pumps at Payless Shoe Source prices. Cool, huh?
Now, there are a few Champagne houses somewhere in between the Grandes Marques and the Grower Champagnes. These are independent houses that buy some grapes and own some grapes and make a small amount of product. Two of my favorites are Bruno Paillard and Billecart-Salmon (both make a spectacular Rosé).
Among grower champagnes I really dig Domaine Egly-Ouriet and Paul Bara. Some wine geeks that I generally agree with also recommend L. Aubry and Vilmart et Cie, although I haven't personally tried these. My overall advice is for you to ask your local wine store or favorite wine steward to recommend something in your price range (these will range from $25 for the brut to $100 for the top-of-the-line reserve bottles). Note: Since less than 10% of all Champagne shipped to the US is of the grower or independent variety, it may take a little patience to find it.
PROSECCO, ASTI SPUMANTI and OTHER ITALIAN SPARKLERS
Always a steal, Prosecco is a light, gently fragrant bubbly made from the grape of the same name, generally from the Eastern portion of the Veneto region of Italy. In its finer bottlings (usually from the officially recognized Prosecco di Conegliano-Valdobbiadene region) Prosecco is a fully sparkling execution, known as a spumanti. The partially-fizzy versions are called frizzante. For the ultimate Prosecco, look for labels bearing the "Superiore di Cartizze" declaration. Prosecco starts around $6 and can climb as high as $25 or more for the best of its kind. Here's possibly the best part: it's lower in alcohol than most Champagnes or wines (under 12%), so you can indulge just a bit more without dire consequences.
Asti Spumanti (also known as just plain old "Asti") is a fully sparkling wine from the famous Piedmont area of Italy near the town of-you guessed it-Asti. It's made from the Muscat (or as the Italians say Muscato) grape, and is much sweeter than Prosecco and much lower in alcohol-only about 7% on average. One the red side, another very-low-alcohol version of great, inexpensive bubbly is Brachetto (AKA Brachetto d'Acqui). Like Asti, Brachetto hails from the Peidmont- in this case, the region called Acqui. It's sweet, fragrant, slightly musky and floral. And it sure goes down easy!
CAVA
These Spanish sparkling wines are difficult to beat for pure value. Closer in feeling to true Champagne than most bulk-processed or even made-in-the-bottle versions, Cava delivers for a fraction of the price. You're likely familiar with well-advertised brands like Cordorníu and Frexinet; these are mass-produced and really won't get you much farther than a mimosa. However, Frexinet owns a finer sparkling producer called Segura Viudas that I highly recommend.
Priced from around $15 to $40 (depending on the level), Segura Viudas is a blend of Macabeo, Xarello and Parellada. These "native" grapes grow in the Penedés in Eastern Spain, about 20 miles South of Barcelona on the shores of the Mediterranean Sea. The reserve bottling of Segura Viudas Cava is made just like top-notch Champagne-using only the first pressing-and then aged in the bottle (sur-latte) for three years before disgorgement. (That's where they take out the sediment left over from fermentation and place the Champagne cork in the very same bottle in which the wine was made.)
AMERICAN SPARKLERS
These days, American sparklers are high in quality, but also in price. They often cost as much as the French stuff – in which case I usually opt for the real deal. There are exceptions, and "J" sparkling wine from theRussianRiverValley immediately leaps to mind. Also, for my money, the best sparkling wine made in theUS is from (are you sitting down?)New Mexico. Yep, Gruet (pronounced grew-AY) makes a damned good one for under $20, with fine, tiny bubbles and exceptional elegance. Their Blanc de Blancs won Best of Show at the International Wine and Spirits Competition inLondon (practically Champagne headquarters) a few years ago. Way to go,Albuquerque!
You may also enjoy Barbara Adams blog entry, "Pop Quiz! What's the best way to uncork Champagne?"