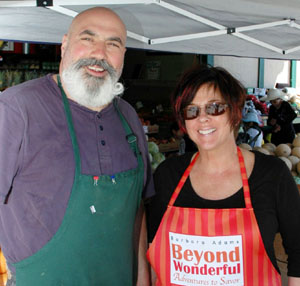 Early one morning with strong black coffee in hand, I stood surveying my small kitchen. Filled with boxes of produce, herbs and supplies from an afternoon food event at Dan's Fresh Produce Market in Alameda, the place was utter chaos. Where to begin? Better yet, how to divvy all this up? Friends and family would soon descend for their cut of the loot. Feeling overwhelmed, I closed my eyes, took a long sip of coffee and slowly got to work.
A large box of multi-colored heirloom tomatoes caught my eye. They glowed like a brilliant, jewel-filled treasure chest ready for the taking. As I sorted them I put aside some large red and purple tomatoes for a batch of cool gazpacho.
This simple, uncooked Spanish soup combines the heirlooms with unpeeled English cucumbers, red bell peppers, purple onion, garlic, olive oil, red wine vinegar, tomato juice and seasonings. A bit of chopping then everything goes in the food processor—zip—chunky, thick, thin, maybe a little more juice—you choose the consistency. It's pretty much a salad in a soup bowl that gets even better as it ripens in the refrigerator overnight. And I don't know about you, but I like it to have some heat—oh, alright, a lot of heat— so I always have a bottle of Tabasco within reaching distance.
Gazpacho makes a great first course, or the main event at a simple lunch or supper. And don't be shy about second or third helpings because this summer soup is very figure-friendly.
I poured another cup of coffee and made my way to a bucket of basil, drawn by the sweet scent permeating the air. I always store herbs as I would flowers, with their stems in water to keep them fresh and fragrant. Heaps of basil can only mean one thing: pesto! A quick check of the refrigerator netted the required pine nuts and parmesan cheese. Within 15 minutes I had multiple batches of pesto ready for freezing. They would become winter treasures when fresh basil was but a warm summer memory. For now, a generous green smear on a slice of baguette was breakfast.
Feeling more human, I explored bags of sweet corn on the cobs, super ripe organic peaches, crip greens and a huge honkin' ripe watermelon. Visions of pies and salads, soups and tarts filled my head as I laid plans to put all this bounty to use. But first maybe one more cup of coffee.
Print copies of my recipes for your convenience: