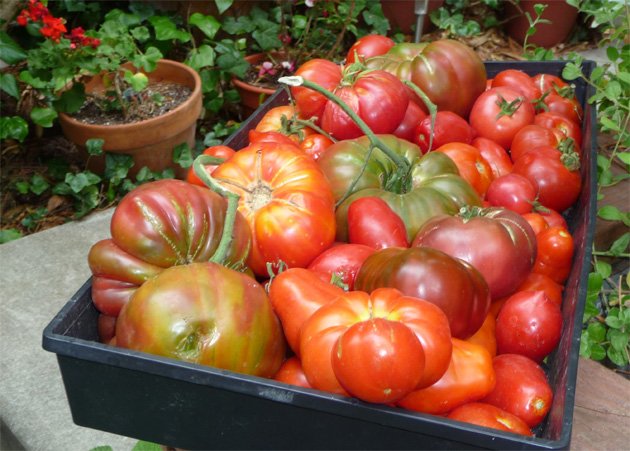 On a cold, foggy Sausalito morning, a knock at the door brings instant sunshine! My friend George, down from the farm, has brought me a glorious flat of just-harvested tomatoes: heirlooms and reds all sorts. Oh me, oh my, I do love late-summer tomatoes and their endless possibilities.
We had lots to catch up on, so I made lunch for us—starring tomatoes, of course! A quick look around the kitchen and I soon gathered all the ingredients for insalata caprese. This simple Italian classic salad combines best-quality buffalo mozzarella cheese, tomatoes, extra-virgin olive oil, salt, pepper and fresh basil leaves—and if you like, a healthy drizzle of balsamic vinegar.
It all comes together quickly, especially when you use a serrated knife to cut the tomatoes and soft, somewhat squishy cheese into ¼ to ½-inch slices. I arrange the tomatoes and mozzarella in alternating overlapping slices on a large platter, but you could easily plate them as individual appetizers.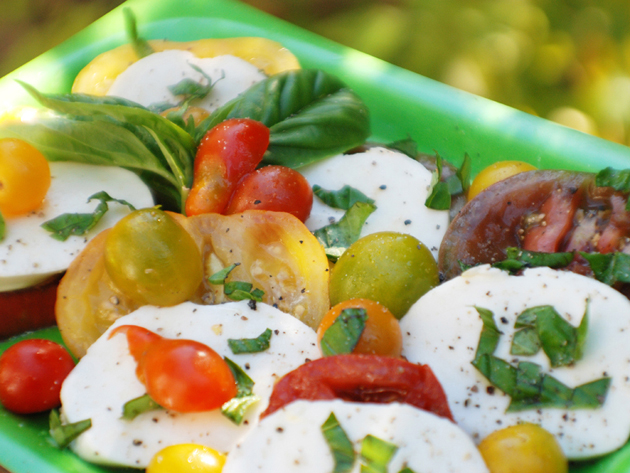 Color is key so I like adding a handful or two of halved red, orange and yellow cherry tomatoes over the slices. Sprinkle with salt and pepper and drizzle with the olive oil and balsamic vinegar. How you cut the fresh basil leaves is up to you—chop, tear or my own personal preference: stack 4 or 5 leaves, roll them and cut into ribbons.  Toss the basil randomly over the top and breathe in the intoxicating fragrance. Let the flavors meld for 20 minutes at room temperature and serve. Add some crusty bread broken into hunks for dipping into the oil and balsamic and you have a perfect meal.
Ours was a simple celebration of a shared harvest, work we love and the latest family news. So good.
Print a copy of Insalata Caprese for your convenience.