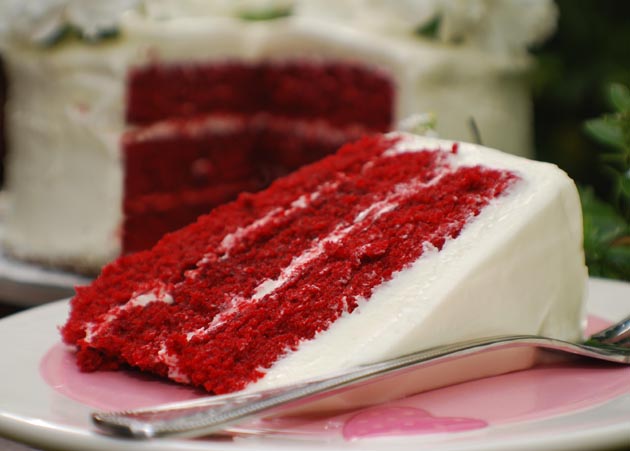 As a child, I thrilled to red and pink paper hearts, inscribed with simple words of love. Today, I give the three-dimensional, edible kind: heart-shaped red velvet cupcakes heaped with extra love in the form of luscious, finger-licking cream cheese frosting. Irresistible!
This moist, rich classic cake will tickle your taste buds with a hint of chocolate and thrill with its festive color. Red velvet cake has been around for almost 90 years, beginning as a signature dessert at New York's famous Waldorf Astoria hotel. In a land of angel and devil's food, vanilla and chocolate, this cake stood out like a drop-dead gorgeous lady wearing a hot red dress in a room filled with basic black.
I first made red velvet with the standard recipe that you find everywhere on the web. Its flavor and moisture were OK but not sensational. The screaming color was actually a little scary, and not at all sophisticated. I hit the kitchen and started playing with the ingredients: cake flour, cocoa, salt, sugar, butter, vanilla, buttermilk, baking soda and vinegar. With a few adjustments—mainly swapping out the butter for double the amount of vegetable oil and a bit more sugar—things improved dramatically. An additional tablespoon of cocoa toned down the red color and added more depth of flavor.
Next, bubbles—lots of air bubbles caused by the intensity of multiple acidic ingredients. Since I'd balanced the ingredients as much as possible, brute force seemed the best approach. So, I banged the cake tins on the counter several times to release the bubbles, then ran a knife gently through the batter. Perfection!
As my hearts baked, I made a huge bowl of cream cheese frosting. Once the cakes were thoroughly cool, I piled them high with the frosting and tried selling the beaters to everyone circling me in the kitchen. They were not amused and came at me with their outstretched spoons. Licking my fingers, I had to admit pure love for the baker that invented this stuff. How can anything taste so good?
Love is sweet. Happy Valentine's Day!
Print a copy of my Red Velvet cake recipe for your convenience.